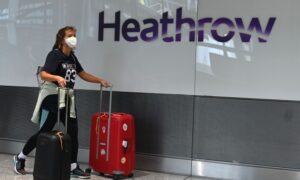 The UK government has postponed until Monday mandatory proof of negative COVID-19 tests for travellers to England, to give travellers more time to prepare.
Earlier this week, the Department for Transport had said the start date would be Friday.
"To give international arrivals time to prepare, passengers will be required to provide proof of a negative COVID-19 test before departure to England from MONDAY 18 JANUARY at 4 a.m.," Transport Secretary Grant Shapps announced on Twitter on Wednesday evening.
"Passengers must remember to complete a Passenger Locator Form before arriving back into England," he wrote. "Anyone WITHOUT proof of a negative test faces a £500 fine."
Within the three-day period before boarding trains, planes, or boats bound for England, passengers must take a test for the CCP (Chinese Communist Party) virus, commonly known as the novel coronavirus.
They must present proof of a negative test to their carrier.
The Department for Transport has now also issued full public guidance, including which types of test are acceptable.
Such tests include PCR and LAMP tests, which detect key chemical markers, and antigen tests from lateral flow devices.
Specifically, the tests are required to have "≥97% specificity, [and] ≥80% sensitivity at viral loads above 100,000 copies/ml".
The government says the new requirements, which also apply to UK passport holders, will help stem the influx of new strains of the CCP virus.
On top of the new measures, arrivals from countries outside the "air corridor" list will still have to quarantine for 10 days.
Transport operators will also be fined if they are found to have transported passengers who have not followed the rules.
England's new rules will not affect travellers from other parts of the UK (which can set their own travel restrictions) or from Ireland, the Isle of Man, Jersey, or Guernsey.
Children under the age of 11 are exempt.
The government said that the "very restricted number" of other exemptions includes flight crews and employees manning boats and trains.
The UK government has been criticised for being both slow to shut down international travel in the first wave last spring, and for then dragging its feet in setting up testing systems that had allowed air travel to continue more smoothly in other nations.
The chief executive of Airlines UK, Tim Alderslade, said earlier this week that while the new testing requirement was needed now, it should be only a short-term, emergency measure.
"Once the roll-out of the vaccine accelerates, the focus must be on returning travel to normal as quickly as possible in order to support the UK's economic recovery," he said in a statement.
The devolved governments of Scotland, Wales, and Northern Ireland have set their own policies to try to stem the spread of the CCP virus. England has no separate devolved government, and its policies are set by the central UK government under laws enacted by the UK Parliament.
January 14, 2021 10:37 am
https://www.theepochtimes.com/feed/