Biden Says He's Prepared to Move Ahead with COVID Relief Without Republican Support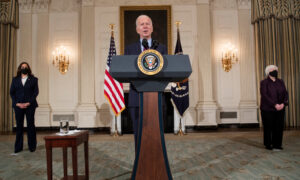 President Joe Biden on Friday said he's prepared to move forward with his COVID-19 relief plan without GOP support, after zero Republicans backed a budget resolution linked to the plan this week.
"A lot of folks are losing hope, and I believe the American people are looking right now to their government for help, to do our job, to not let them down. So I'm going to act, and I'm going to act fast," Biden said in remarks from the White House after meeting with Democrat lawmakers.
"I'd like to be doing it with the support of Republicans. I've met with Republicans, there are some really fine people who want to get things done, but they're just not willing to go as far as I think we have to go. I've told both Republicans and Democrats that's my preference to work together, but if I have to choose between getting help right now to Americans who are hurting so badly and getting bogged down on a monthly negotiation or compromising on a bill that up to the crisis, that's an easy choice. I'm going to help the American people who are hurting now," he added.
Biden and congressional Democrats are using a budget tool called "reconciliation" to jam through his $1.9 relief package without Republican support. They are able to do so because Republicans are in the minority in both chambers.
The Senate passed an amended budget resolution earlier Friday. The House planned to pass it before the end of the day.
The House is aiming at putting Biden's plan into an official bill by the end of February, House Speaker Nancy Pelosi (D-Calif.) announced Friday.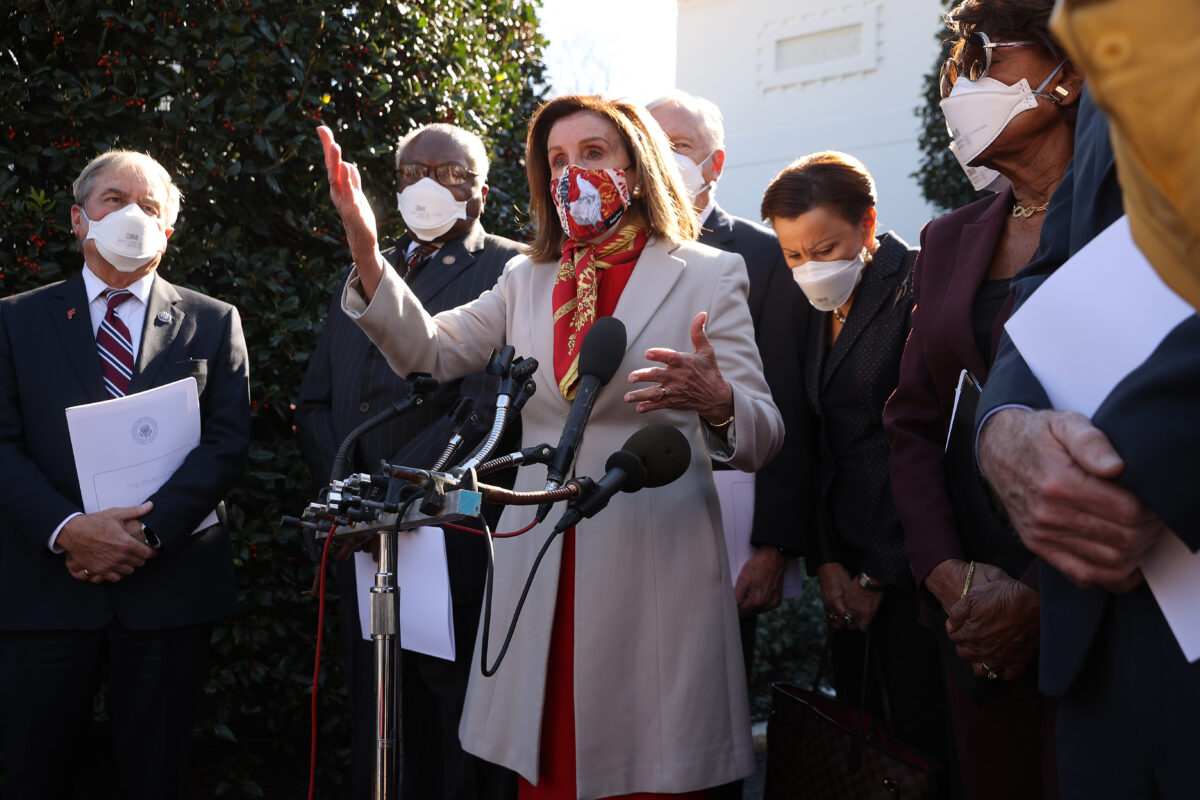 Pelosi and other Democrats convened with Biden in the Oval Office, discussing the relief bill. They have brushed aside criticism of proceeding without a single Republican backing them.
A group of 10 Republicans have tried negotiating with Biden, proposing an approximately $618 billion plan that matches his for COVID-19 vaccine funding but slashes money elsewhere.
"We need an answer that meets the challenge of this crisis. Not one that falls short," Biden said. "That's the issue facing the country right now. What Republicans have proposed is either to do nothing or not enough. All of the sudden, many of them have rediscovered fiscal restraint and the concern for the deficits. But don't kid yourself. This approach will come with a cost: more pain for more people for longer that it has to be."
Republicans on the Senate floor expressed disagreement with the path Democrats are taking.
"Democrats have chosen a political maneuver instead of seeking to replicate the bipartisan success we had with COVID bills like the CARES Act," Sen. John Thune (R-S.D.) said on the Senate floor.
"We passed a $900 billion bill in December and only 20 percent of the money that we appropriated is even out the door yet," Sen. John Cornyn (R-Texas) told colleagues. "This is a time to try to parse where the needs are and to target those resources to the people who need it, not a time to pass your liberal 'outbox' and agenda."
Vice President Kamala Harris was forced to cast the tiebreaking vote to pass the budget resolution.
February 5, 2021 7:22 pm
https://www.theepochtimes.com/feed/