Blinken Urges China to Come Clean on Pandemic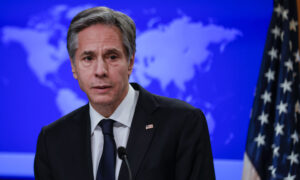 U.S. Secretary of State Antony Blinken criticized China for its continued failure to be transparent about COVID-19, in a recent interview with BBC World News.
"It requires countries to be transparent; it requires them to share information; it requires them to give access to international experts at the beginning of an outbreak—things that, unfortunately, we haven't seen from China," Blinken said.
He added, "My hope is going forward that China becomes a full participant in these efforts to make sure that we can prevent the next pandemic even as we're dealing with the current one."
China's cover-up of COVID-19, the disease caused by the CCP (Chinese Communist Party) virus, started during the initial stage of the outbreak. In late December 2019, Chinese authorities silenced eight whistleblowers, including ophthalmologist Li Wenliang, when they tried to warn on Chinese social media about an "unknown pneumonia" outbreak in the city of Wuhan.
Most recently, Beijing was accused of refusing to provide raw data on early infection cases to members of the World Health Organization (WHO), according to Australian infectious disease expert Dominic Dwyer, who was part of a WHO team probing the origins of the pandemic in Wuhan. The team arrived in Wuhan in mid-January before leaving earlier this month.
The Epoch Times recently obtained several internal documents issued by China's center for disease control and health departments in 2019 and 2020. The documents revealed that Beijing did not publicly reveal a large amount of data on people infected with influenza and other diseases that have similar symptoms to COVID-19.
In the same interview, Blinken also condemned Beijing's decision to ban BBC World News in China, saying that the Chinese people were the "biggest losers" as China has "one of the least open information spaces in the world."
"They want free and open sharing of information. That's being denied to them by their own government," Blinken added.
Beijing's decision to ban the BBC came just days after the UK's broadcasting regulator on Feb. 4 revoked the license of Chinese state broadcaster CGTN, the international arm of China's state-run outlet CCTV. The regulator found the Chinese broadcaster violated UK broadcasting laws.
Two days prior, the BBC reported that Chinese men engaged in mass rape, sexual abuse, and torture against Uyghur women detained inside internment camps in China's far-western Xinjiang region, based on interviews with several former detainees and a guard.
Beijing has detained (pdf) more than a million ethnic minorities, including Uyghurs, Kazakh, and Kyrgyz people, in the camps. Beijing claims the camps are "vocational training centers."
In January, then-Secretary of State Mike Pompeo declared that Beijing had committed "genocide" and "crimes against humanity" against Uyghur Muslims.
"[China] takes advantage of the fact that many of our countries have fully free and open information spaces, and China uses that to spread misinformation and propaganda," Blinken said.
In 2020, the State Department under the Trump administration named nine Chinese media outlets, including CCTV, CGTN, and People's Daily, as foreign missions, identifying them as propaganda organs of the CCP. These media are required to register their employees and U.S. properties with the State Department.
When asked whether the United States would boycott the 2022 Winter Olympics in Beijing, Blinken declined to comment.
"We'll come to that question at the appropriate time, but the main thing is across all of these issues it's really important that we consult closely and we work closely together with like-minded countries and our partners," he explained.
Earlier this month, a coalition of over 180 groups, including the International Tibet Network and World Uyghur Congress, signed a joint letter urging governments to boycott the 2022 Games.
February 23, 2021 11:19 am
https://www.theepochtimes.com/feed/