Reawakening a Giant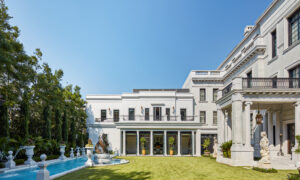 In his illustrious design career, Chuck Chewning has executed major projects in Europe and North America, winning big awards. Yet it might have appeared that even someone of Chewning's virtuosity would need to reach deep into his repertoire to restore the Armstrong Mansion in 2017. This 26,100-square-foot Italian Renaissance Revival palace stands at 447 Bull Street in Savannah, Georgia, across from the 30-acre Forsyth Park with its sensational fountain, and just around the corner from Savannah College of Art and Design, where Chewning studied years before. The sheer scale of the commission was daunting.
How fortunate that his client, Richard Kessler—hotel magnate, real estate developer, and philanthropist—happened to have warehouses filled with decorative arts, musical instruments, and fine-art pieces that he had collected over the years. While working on another commission for a newly built house in Creole plantation style, Chewning and his small staff also bought items for the mansion's interiors, shopping at auctions for two years. Kessler's vast inventory helped to get things going much faster.
"Richard's personal collections are so vast and in such a range, that it was quite easy to go through and say, 'Okay, I need Jacobean pieces.' He had them. That actually was not a problem at all," Chewning said.
When the original architect Henrik Wallin's completed mansion, with its fireproof concrete construction, was featured in "The American Architect" periodical in 1919, the public rooms on the first floor were decorated in different period styles. Guests were received and entertained there.
"In a way, they're almost like theatrical stage sets," Chewning said. "And that really dictated how they needed to be furnished." The dining room is Georgian, but the music room is a French Louis. Arts and crafts details in a corner room reflect the contemporary trend at the time of the mansion's construction.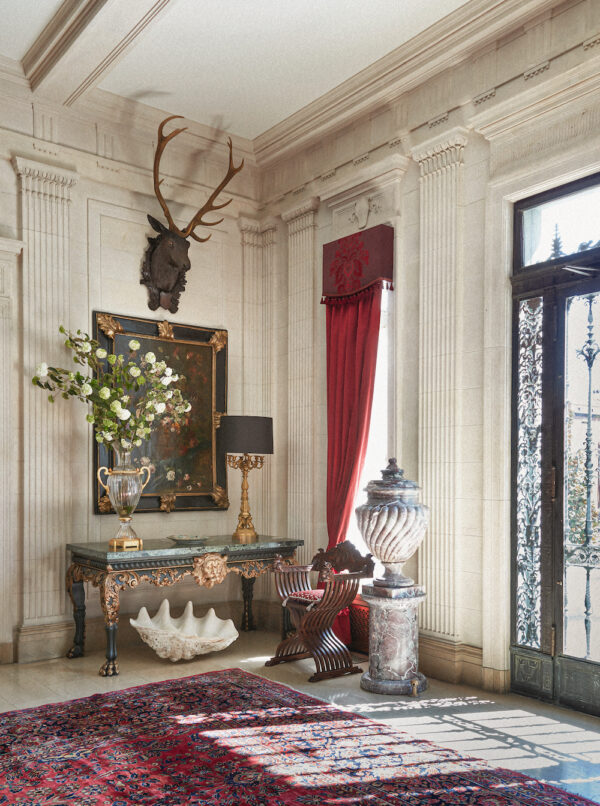 The primary objective was to return the three-story mansion to its original purpose as a home—in this case, for Kessler and his wife. George Ferguson Armstrong, a shipping magnate, first commissioned the project in 1916. After his family's time in it, the mansion served as a junior college from 1935 (Kessler took classes there before moving on to Georgia Tech). Later, it was briefly owned by Jim Williams, famed as the protagonist of the nonfiction book about a local murder, "Midnight in the Garden of Good and Evil." After 1970, it became a law office. Kessler's acquisition and the restoration program delighted Savannah's preservationists. While the mansion was well-maintained, it had grit and smudges from nearly a full century of use. Previous owners had also made interior modifications, such as dropped ceilings and built-out walls.
"It was very satisfying to know that the building had been purchased by someone with the means to reverse some of those less sympathetic changes," said Ryan Arvay, the Historic Savannah Foundation's director of preservation and historic properties.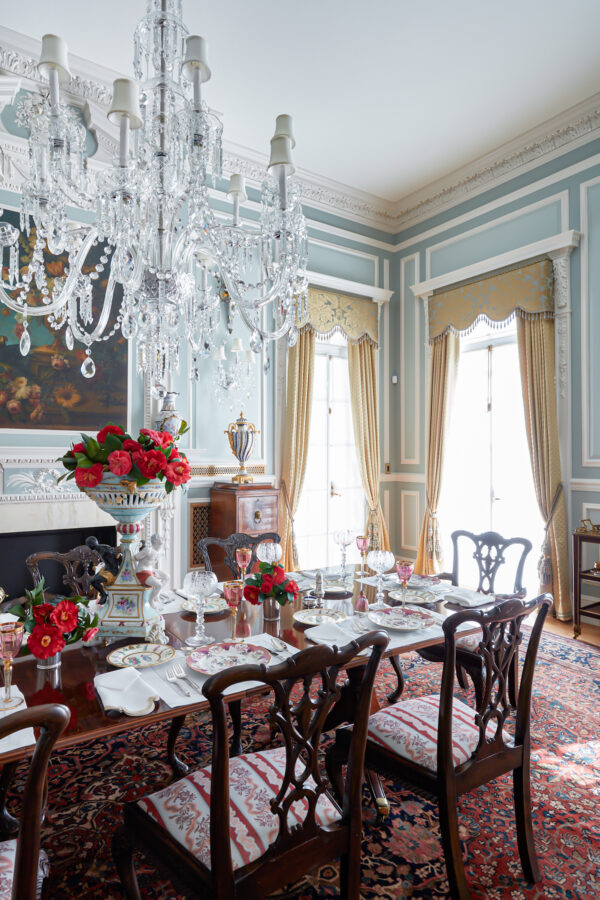 Assessing the job ahead, Chewning admitted himself through the solid-bronze front doors with their elaborate Beaux Arts detailing, registered the first floor's stylistic variations, and ascended the cantilevered solid-marble staircase. He found 13 bedrooms and 19 bathrooms. There are also four kitchenettes and a commodious chef's kitchen. On the first floor, a crew stripped away the walls shrouding features such as carved walnut panels and a cozy wall fountain. Meticulously molded plaster and dramatically sculpted friezes also emerged.
"We discovered original details and finishes still existing that we were surprised to see because we thought possibly they had been destroyed or lost in the renovations," Chewning said.
A special challenge was the fenestration. The 125 steel-framed and mullioned windows with bronze hardware had represented something of a breakthrough for their maker, International Casement Co., which featured them in a catalog in 1920. Having determined that the glass panes were originally covered with lace, Chewning set about to replicate the panels. He found a lace mill in Scotland but worried about the effects of Georgia's summer sun on the natural fibers.
"They would just sort of rot," he said. The solution was to use a flame-retardant, dimensionally stable polyester yarn called Trevira CS. "That was one thing we were able to do that was innovative but still was in the context of the traditional history."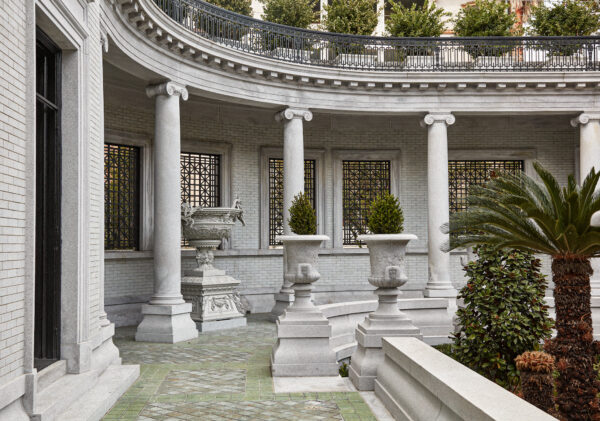 Then he had to rustle up the damasks, silks, velvets, and tapestries that would be expected inside traditional period rooms. One of the best expressions of his decorative approach was the original music conservatory room, which opens onto the roof terraces. He placed a drum kit, a Hammond B-3 organ, and Kessler's Bösendorfer Imperial grand piano that was designed by F.A. "Butzi" Porsche. An ornamental theme of Chinese antiques seemed to work with the rest of the house. "And that idea of this decadent chinoiserie party room speaks to the period of the 1920s, when the house had just come to life," Chewning said.
Meanwhile, the architect behind the restoration, Christian Sottile, proceeded with the structural work. He designed a new carriage house in keeping with the original style and added a pool. Yet the mansion was also technologically advanced for its time, with features like a central vacuum system, some 21 miles of wiring, recirculating hot water system, and rain-head showers.
"It was built to the highest standards of its time, really a commercial standard," Sottile said. "Our thinking with the restoration was to bring in the best technologies of today to show it's not a museum piece, but it's in fact a living building." Air conditioning topped the list of modern amenities to be added. "We ended up with 37 separate air-conditioning units hidden throughout the home so that they're invisible." And the building got digital updates, allowing every light switch to be controlled with a smartphone.
Upon completion of the restoration program in 2019, the home—now called the Armstrong Kessler Mansion—received the President's Award from the Historic Savannah Foundation. Ryan Arvay said this recognition is reserved for projects of unusual scope and complexity. "It's meant to showcase a standout property in a field of already outstanding projects," he said. "That is a landmark house, no doubt about it. … It is really an architectural masterwork. Everything that Kessler did on the property, from cleaning the masonry to restoring interior spaces to original configuration, was really exemplary."
April 30, 2021 11:10 pm