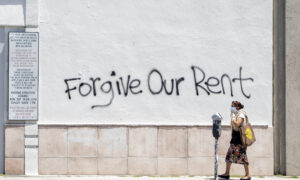 Commentary
The Centers for Disease Control and Prevention (CDC) did not have the legal authority to place a moratorium on evictions during the pandemic, a federal judge ruled May 5.
While the news won't affect Californians, it does highlight the challenges the ongoing COVID-19 pandemic have brought upon both renters and landlords.
According to the U.S. Census Bureau's most recent household pulse survey, taken April 14 to April 26, some 12.7 percent of California renters are behind on rent payments. Of the 7.9 million survey respondents living in rental housing, about 1 million people said they were not caught up with their rent.
California renters are doing slightly better than other U.S. states; outside California, about 14 percent of renters are behind on rent payments.
In California, Gov. Gavin Newsom signed into law SB 91, statewide legislation that prohibits residential evictions through June 30.
SB 91 paused evictions "for tenants who declare under penalty of perjury an inability to pay all or part of the rent due to a COVID-related reason. Tenants are still responsible for paying unpaid amounts to property owners, but those unpaid amounts cannot be the basis for an eviction, even after the moratorium ends."
SB 91 also created a state rental assistance program to allocate the $2.6 billion in federal rental assistance to tenants affected by the pandemic. The program also allowed landlords to become eligible for 80 percent in rent reimbursement in exchange for waiving 20 percent of unpaid rent owed between April 1, 2020 and March 31, 2021.
Regarding Californians, Scott Barr, a realtor at Sotheby's in Newport Beach said there are different ways of viewing the legislation.
"On one hand, SB91 is a very good deal for California landlords whose tenants qualify for that program. To only lose 20 percent of rents for that reason, is like dodging a bullet during a gunfight," Barr told The Epoch Times. "On the other hand, it will be the California tax payer who will end up footing the bill."
Meanwhile, U.S. President Joe Biden in February directed that people owing money on any federally-guaranteed mortgage can ask for a forbearance through June 30. Mortgage lenders lending under federally-guaranteed mortgage programs cannot foreclose on mortgage borrowers before then.
So even though May 5's federal ruing clarifies the CDC's proper role in not being able to affect landlords' ability to evict their tenants, other rules in place at the federal and state level will continue to prevent evictions through at least June 30.
Views expressed in this article are the opinions of the author and do not necessarily reflect the views of The Epoch Times.
May 6, 2021 6:31 pm