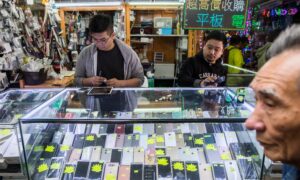 In Hong Kong, the fear of government surveillance and privacy concerns have been re-ignited after the pro-Beijing city government announced a new system requiring prepaid SIM card users to provide their personal information.
Under the new system, cellphone users are required to provide their real name, birthday, identity document numbers, and a copy of the identity document, and other personal details, to their mobile service providers, said Edward Yau, Hong Kong's secretary for commerce and economic developments, in a briefing on June 1.
The bill for the proposed system will be reviewed by the city's Legislative Council (LegCo) on June 9, and it is widely expected to be approved since there is no effective opposition after mass resignations last year in protest against the disqualification of four pro-democracy lawmakers. According to Yau, the system would come into effect on Sept. 1 and its purpose would be to fight crime.
Service operators will have 180 days after Sept. 1 to set up their own registration system, according to a government announcement. New pre-paid SIM card users will need to register starting on March 1 next year and existing users will enjoy a grace period until Feb. 23, 2023.
Currently, mobile users in Hong Kong are required to provide personal details when they sign up for a contract-based price plan. They don't have to do so when they buy or fill up their pre-paid SIM cards at local stores.
Additionally, service operators will be required to store the users' personal information for at least 12 months after the prepaid SIM cards are deregistered, according to a LegCo briefing (pdf). Additionally, Hong Kong law enforcement agencies can ask these operators to turn over the information with a warrant or without a warrant "in certain urgent or emergency situations."
The new system has sparked some international concerns because of Beijing's track record of using technology to monitor its own citizens. What's more, there are already known cases of Chinese police officers tracking down people through their phones and then persecuting them.
In the United States, Rep. Ken Buck (R-Colo.) took to Twitter to criticize the Hong Kong government for introducing the system, saying it "continues to enact laws and policies restricting the civil liberties of its citizens."
In recent years, Beijing has steadily encroached on Hong Kong's daily affairs, and the city's freedoms have plummeted since the Chinese Communist Party (CCP) imposed a draconian national security law. The law has been used to muzzle the city's anti-CCP, pro-democracy movement that started in June 2019.
Concerns
Hong Kong Journalists Association (HKJA), in a statement issued on June 1, expressed worries that the new system would give the city's law enforcement agencies too much power given how they could obtain information about mobile users in certain situations without a warrant.
Additionally, HKJA expressed concerns about the system's impact on the city's press freedom and the public's rights to know—ordinary citizens might be fearful to provide sensitive information such as allegations against individuals for abuse of power to media organizations.
Consequently, HKJA said that media groups could be in a more difficult position to act as watchdogs in society.
U.S.-based China affairs expert Ji Da, in a recent interview with the Hong Kong edition of The Epoch Times, said that he was stunned that a major metropolis like Hong Kong would put in place that system. Da said he agreed with HKJA's assessment.
Once the system is in effect, Da explained, international organizations and companies could potentially all be under surveillance by Hong Kong authorities.
According to Yau, corporate prepaid SIM card users will need to provide a copy of their business registration certificates to service providers, as well as the personal information of a person representing the company, under the new system.
Kelvin Sin, the deputy spokesman on broadcasting policy for the local opposition Democratic Party, said the Hong Kong government's quick pace at pushing forward the measure should "raise few eyebrows," according to the local daily Hong Kong Economic Journal.
Outside of Hong Kong, Sophie Richardson, the China director at the Human Rights Watch, and Benedict Rogers, co-founder and chief executive of London-based NGO Hong Kong Watch, both took to Twitter to state their disapproval of the measure.
"Another encroachment on privacy," Richardson wrote. As for Rogers, he described the new Hong Kong government's move as "[t]he daily Orwellianisation of #HongKong."
Beijing
China began demanding people to register their mobile phones with their real names since at least 2010. Six years later, in May 2016, China's Ministry of Industry and Information Technology doubled down on the effort, demanding service providers to have more than 95 percent of their customers register their real names by the end of 2016, and 100 percent by the end of June 2017.
The real-name registration requirement applies to foreigners and mobile service providers can terminate their mobile services for failing to comply.
In November 2016, the municipal communication administration in China's capital Beijing said the registration requirement was needed to "fight terrorism," maintain "social security," and "prevent telecom fraud."
How China spies on its citizens through people's phones was exposed in December 2019, when Mr. Li (a pseudonym), a former employee of China's state-run telecoms company China Mobile, spoke to Bitter Winter, a religious liberty and human rights magazine.
Li said his company had a system that was programmed to automatically detect "sensitive" words and phrases, and his job was to review these detections. Examples of these "sensitive words" included remarks critical of the CCP and the words Falun Gong.
Falun Gong is a spiritual exercise involving meditation exercises and spiritual teachings. Currently, adherents of this exercise in China are being heavily persecuted by the CCP, as millions have been detained inside prisons, labor camps, and other facilities since 1999.
Li added that when someone was detected, it could lead to his mobile service being deactivated or punishment. For example, Li said a man in coastal China's Fujian Province was intercepted at China's border and his passport was destroyed by border guards in May 2019. The man previously criticized the CCP and Chinese leaders.
Minghui.org, a U.S.-based website that monitors the persecution of Falun Gong in China, reported in December 2018 how a state security police officer said he could listen in to the conversations of people on their phones.
As for why Hong Kong decided to adopt the new system, Ji explained that the Chinese regime was simply "transferring its experience" on the mainland to the Chinese-ruled city. In other words, the Chinese regime wanted to "sinicize Hong Kong."
Implementing the national security law was just the first step, Ji said, which allowed the CCP to destroy Hong Kong's rule of law, paving the way for an eventual dictatorship in the city.
Frank Fang contributed to the article.
June 4, 2021 7:12 pm