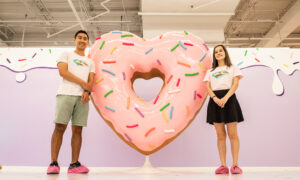 WESTMINSTER, Calif.—For doughnut lovers in Orange County, California, the Donut Life Museum offers a sweet experience they definitely "do-nut" want to miss.
The owners of the pun-heavy, brightly colored pop-up museum drew inspiration from the tasty pastries to create a cheerful adventure for their guests.
"When life gives you lemons, make a lemon-filled doughnut," Kathy Ly, the leading founder of the museum, told The Epoch Times.
Ly and her partners, Alix Luu and Brian Ross, wanted to create a unique, interactive space where people could connect, spend some quality time, and make memories together.
"I wanted to offer something inspirational and very uplifting—especially after such a difficult year. We wanted to bring some sweetness back to people's lives," Ly said.
The Donut Life Museum, located inside the Westminster Mall, is Ly's brainchild. Though she doesn't consider herself "artistic in terms of drawing or sketching," the exhibit overflows with the hallmarks of her distinctive imagination.
To help bring her vision to life, Ly sought out a number of artists throughout Los Angeles and Orange County, including students at Irvine's Northwood High School who designed one of the museum's best-selling T-shirts.
"I wanted to find an element that's really common, something that we can all connect to," she said. "A doughnut's circular shape reminded us of the circle of life. So we highlighted significant moments of life—all told through the world of doughnuts, using art and puns to help tell that story."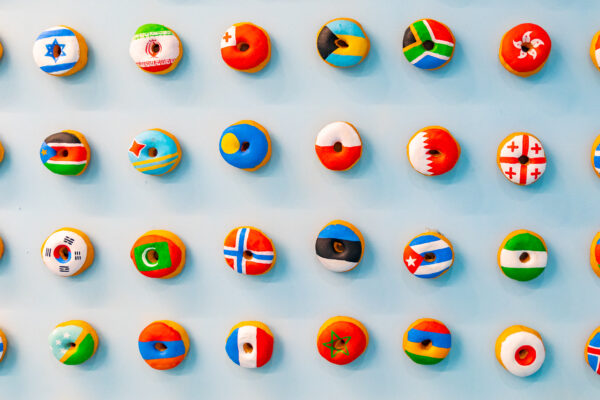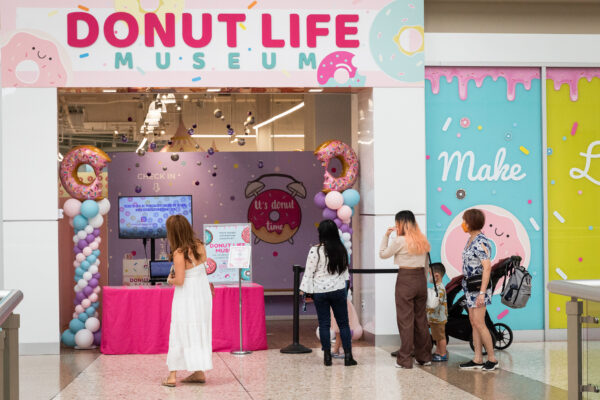 'Donut Ever Grow Up'
First, the museum's guests enter the International Room, where they're greeted by a wall of doughnuts that are individually hand-painted to resemble flags from countries all over the world.
"We eventually want to do something where kids can guess the flag and see which country it is," Ross told The Epoch Times.
From there, guests embark on their journey through life by entering a baby room decorated with everything doughnut-related. The walls are rose-pink, and crowned with oozing, thick white icing and sprinkles. A giant crib accommodates anyone who's hungry to capture a unique picture for their social media account.
"The name of this room is 'Donut Ever Grow Up,'" said Ly. "It's always acceptable to be a kid at heart and always let your inner child shine, even as you become an adult."
Along the way, guests are treated to fun facts about the history of the doughnut, which originated from a Dutch pastry called ollie-bollen.
"But that translated to 'oil ball,' so nobody really liked that," Ly explained. "So they were like, 'Let's name it the "doughnut,"' because it's a much better name."
Visitors are encouraged to linger in the "Donut Love Room" to write a message about something or someone they love and stick it to the wall.
"Love makes the world whole—kind of like a doughnut hole," Ly said.
Before the tour concludes, patrons can pause for a selfie with a giant heart-shaped doughnut, or briefly enjoy the solitude and grandeur of the "Sweet Dreams Room," which was partly inspired by Yayoi Kusama's temporary "Infinity Mirror Room" exhibit at The Broad art museum in Los Angeles.
After a recent tour, Ly told her guest to "have a dough-lightful weekend!" before adding, as an aside, "We use a lot of puns here, so it's pretty cheesy."
Families, Influencers, and 'Furry Friends'
The museum's latest offering is a carnival-themed exhibit in honor of National Doughnut Day on June 4—a holiday that coincided with Donut Life's one-year anniversary. To celebrate, they partnered with several vendors, including Tustin's Woofpack Pet Kitchen.
Ly pointed to a display of a dozen doughnuts that the company handcrafted for dogs. She said some guests will bring their pets to stage pictures within the installations. One pair of dogs even came prepared with wardrobe changes.
"Their owners brought a bag of clothes for them and swapped them out in each room," Ly said.
The dogs, Hank and Masha, are well-known "public figures" on Instagram, where they have almost 12,000 followers.
But while the museum is dog friendly, Ly mentioned that some guests wanted to bend that rule for more exotic pets.
"People have asked if their snakes or their iguanas can come in, but we usually say 'furry friends only—no reptiles,'" she said.
Ly recalled one occasion when a guest brought their guinea pigs to pose in the center of the museum's giant heart-shaped doughnut.
"It was super funny and cute," Ly said. "It was the first time I saw someone be able to train their guinea pigs to be models."
The holiday and anniversary celebration will kick off with a doughnut-themed paint night. Throughout the weekend, guests will be given doughnuts provided by Krispy Kreme, Donut Life's sponsor. The first 100 kids to visit will receive balloons and a gift bag.
"We have people of all ages come, but the majority of our customers have been parents with younger kids and millennials, because they love to create content," Ly said. "I would say that's probably like 90 percent of our audience."
She said some prominent influencers with "a couple million followers" also visited to create content.
"We've been getting some great feedback, especially from families with children. Their kids have been cooped up this last year," Ross said. "[So] to come out to a place so colorful and so interactive, where they can take some really good photography and selfies … people have just been enjoying the experience—especially since we've been giving a doughnut at the end."
He added, "Getting that sweet treat to walk out of here with puts a smile on their face."
June 5, 2021 10:55 am