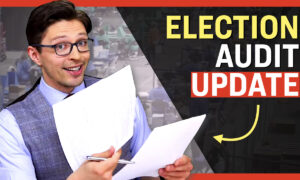 A Christian group based in Texas applied to get tax-exempt status. However, the IRS declined their request, saying that the Bible's teachings overwhelmingly benefit the interests of the Republican Party—and therefore, they aren't non-partisan.
In Arizona, as the audit of the 2020 election begins to wrap up, and the final report is due in a month, the state Senate suddenly announced that they are going to adjourn until next year. What exactly does that mean for the process?
American Hartford Gold (866-242-2352): https://ept.ms/3biH9MN 
Stay tuned for our newsletter so you won't miss out on our exclusive videos and private events.
Facts Matter is an Epoch Times show available on YouTube.
Follow Roman on Instagram: @epoch.times.roman
Follow EpochTV on social media:
Facebook: https://www.facebook.com/EpochTVus
Twitter: https://twitter.com/EpochTVus
June 26, 2021 12:44 am