81 Percent of Americans Are Concerned About Chinese Influence in US: Poll
July 22, 2021
Business & Economy, China, Chinese Regime, Donald Trump, Finance & Business Ties, Global Expansion, Gordon Chang, Infiltrating the West, Marsha Blackburn, Special Topics, US-China relations, Xi Jinping
No comments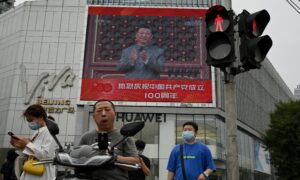 A vast majority of Americans across the political spectrum are worried about the Chinese regime's influence in the United States, according to a national poll.
Eighty-one percent of respondents to a Convention of States Action and Trafalgar Group poll said they are concerned, somewhat concerned, or very concerned about Beijing's influence over the U.S. government, media, and culture.
While the results crossed party lines, in general, Republicans were more alarmed by the issue. More than 90 percent of Republican voters were concerned, with 71 percent saying they were very concerned. A total of 71 percent of Democratic voters expressed concern, with 39 percent being very concerned. Nearly 80 percent of independent voters were concerned.
The survey of 1,089 people was conducted on July 12 and July 13.
The results weren't a surprise to Mark Meckler, president of the Convention of States Action, who said people from across the political spectrum are voicing the same concern to him on a near-daily basis.
"People understand that there is an existential and evil threat to the world represented by the CCP," Meckler told The Epoch Times, referring to the Chinese Communist Party (CCP).
Sen. Marsha Blackburn (R-Tenn.), who has introduced various bills aimed at countering Beijing's infiltration of U.S. institutions, said the CCP is "determined to undermine the United States' interests through a battle of malicious influence."
"While the American people have caught on, it's time for the Biden administration to follow suit and stand up to [Chinese leader] Xi Jinping," she told The Epoch Times in an emailed statement.
Awareness Rising
A string of controversies in recent years have helped to awaken the American public to the CCP's malign influence in the country, Meckler said. On top of that, the Trump administration's efforts to expose the various threats posed by the communist regime have also assisted in "raising people's radar" regarding this issue, he noted.
Examples of American businesses caving to CCP censorship demands are numerous.
In July 2019, when the trailer for the upcoming "Top Gun" sequel was released, fans noticed that the Japanese and Taiwanese flags had been removed from the Navy patch on the leather jacket worn by Tom Cruise's character, naval aviator Pete "Maverick" Mitchell.
It turns out that one of the production companies of the sequel is Tencent Pictures, the film unit of Chinese tech giant Tencent. The company is known for complying with the Chinese regime's censorship rules in China and for extending its monitoring and censorship to U.S. users of its popular messaging app WeChat.
Paramount Pictures, which will release the "Top Gun" sequel later this year, was criticized at the time by Sen. Ted Cruz (R-Texas) over its decision to change the Navy patch.
"Top Gun is an American classic, and it's incredibly disappointing to see Hollywood elites appease the Chinese Communist Party," Cruz told the Washington Free Beacon in July 2019.
Cruz subsequently introduced a bill (S.3835) in April 2020 to stop Hollywood from censoring films for the Chinese regime. He hoped that the legislation would "serve as a wake-up call by forcing Hollywood studios to choose between the assistance they need from the American government and the dollars they want from China," according to a statement accompanying the bill.
A similar incident occurred in May, when actor John Cena, who stars in the latest "Fast & Furious" movie, apologized to fans in Chinese after he was excoriated by the regime's state-run media for referring to Taiwan as a country. The regime in Beijing considers Taiwan a rebel province and has pressured countries around the world to treat the island nation as part of China.
Chinese Infiltration
U.S. officials have sounded the alarm on the regime's infiltration across all spheres of American society.
"The tools in their toolbox to influence our businesses, our academic institutions, our governments at all levels are deep and wide and persistent," FBI Director Christopher Wray said during a Senate hearing in April.
Then-Secretary of State Mike Pompeo gave similar warnings in a speech to governors in February 2020. He said CCP officials were "cultivating relationships with county school board members and local politicians" through sister cities programs.
Many Chinese entities in the United States, including Chinese consulates, grass-roots level "united front" groups, and language centers known as Confucius Institutes, have been tied to the communist regime's effort to infiltrate America's civil and political institutions.
Through these bodies, the CCP seeks to gain "control, or at least veto power, over public discourse and political decisions" in the United States, a senior state department official said last year.
American universities are among the regime's biggest targets, Meckler noted.
Pompeo, in a December speech, warned of Beijing's efforts to steal U.S. research and stifle academic freedom across college campuses.
"So many of our colleges are bought by Beijing," he said, citing the deep financial ties between many American universities and China.
A 2020 investigation by the Department of Education found that universities received almost $1.5 billion in contracts and gifts from China from 2014 to 2020.
"We cannot allow this tyrannical regime to steal our stuff to build their military might, brainwash our people, or buy off our institutions to help them cover up these activities," Pompeo said.
For China expert Gordon Chang, the poll results revealed a disparity between ordinary Americans and political leaders in their understanding of the problem.
"The American people are greatly concerned about China's malicious influence operations in our country, which goes to show they have much more sense than our political leaders and elites," Chang said in a statement to The Epoch Times.
"The apparent lack of alarm at the top of our political system means America is at great risk."
Cathy He contributed to this report. 
July 22, 2021 7:52 pm