Former Top Pentagon Scientist Casts Doubt on Subsidizing Chip Manufacturing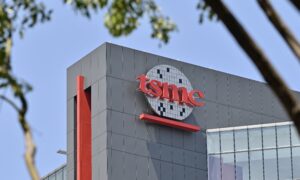 Amid a growing push in Washington to subsidize domestic computer chip production so the United States can maintain its technological lead over China, a prominent former U.S. government scientist has warned that such a policy could be counterproductive and antithetical to American values.
Nineteen trade associations urged congressional leaders in a joint letter dated July 22 to pass the CHIPS for America Act—a bill that would allocate $52 billion for the promotion of the U.S. semiconductor manufacturing industry. The letter followed a House Subcommittee on Strategic Technologies and Advanced Research (STAR) hearing on microelectronics, at which multiple participants on July 20 also expressed support for the legislation.
Semiconductors, or chips, play a vital role in the economy, helping power computers, smartphones, and numerous other technologies. Chips have been in short supply in recent months as a result of supply chain disruptions stemming from COVID-19-related government lockdowns.
Much of the semiconductor supply chain is located in Southeast Asia. The groups pushing for the CHIPS for America Act say it's necessary to help the United States maintain its technological lead over China, as well as to build domestic capacity in case of conflict or disruption.
"While the governments of our global competitors have invested heavily to attract new semiconductor manufacturing and research facilities, the absence of comparable U.S. incentives has made our country less competitive," states the letter, signed by the U.S. Chamber of Commerce, United Autoworkers, the Semiconductor Industry Association and 16 other groups. "To be competitive and strengthen the resilience of critical supply chains, we believe the U.S. needs to incentivize the construction of new and modernized semiconductor manufacturing facilities and invest in research capabilities."
The trade associations are joined by other heavy hitters in a concerted lobbying effort for domestic subsidies. Perhaps most prominently, semiconductor subsidies are supported by the U.S. National Security Commission on Artificial Intelligence (NSCAI)—a government commission run by power brokers such as former Google Chief Executive Eric Schmidt; Amazon Web Services CEO Andy Jassy; Oracle CE Safra Catz; former U.S. Deputy Defense Secretary Bob Work; and Chris Darby, the head of In-Q-Tel, a government venture capital organization started by the CIA.
In its final report in March, the NSCAI recommended some $35 billion in semiconductor subsidies, as well as export controls on advanced semiconductor manufacturing equipment—the latter policy intended for preventing advanced technology from being easily transferred to countries like China.
"After decades leading the microelectronics industry, the United States is now almost entirely reliant on foreign sources for production of the cutting-edge semiconductors that power all the AI algorithms critical for defense systems and everything else," said the NSCAI, which was created by Congress in 2018. "Put simply: the U.S. supply chain for advanced chips is at risk without concerted government action."
Market Forces
While some groups, such as the libertarian think tank Cato Institute, have written in opposition to the CHIPS for America Act, seemingly most voices in Washington—including within the Biden administration—have expressed support.
However, at the STAR hearing on microelectronics, witness Lisa Porter, a former government scientist who holds a doctorate in physics, said she doubts the wisdom of having the government subsidize an industry that's flush with cash.
Porter is one of the most prominent voices in Washington when it comes to government tech policy, having worked for In-Q-Tel, NASA, and DARPA, the Pentagon research-and-development agency famously known for helping spearhead the creation of the internet. Porter also helped start IARPA—the intelligence community's version of DARPA—in 2007 before a stint as the deputy undersecretary of defense for research and engineering in 2018.
"I think I'm in the minority in this room on that, but I'm actually very concerned about spending a lot of taxpayer dollars in a subsidy kind of environment," said Porter, who now works in the private sector.
"I've actually looked at the 10-Ks [financial statements] of our industry—and I invite you all to do that, and look at how much free cash flow certain companies that will benefit from this actually got in 2020. And look at how did they spend that money—and why aren't they spending that here?"
Porter further said that the semiconductor supply chain is highly complex, with a vast network of thousands of suppliers performing specialized tasks at many different levels of the lifecycle—from specialty gases and chemicals to silicon wafers, software, packaging, and more. She argued that government intervention might skew this intricate ecosystem.
"The government, by its very nature, is ill-suited to pick winners and losers in the market. Any subsidy targeting a specific part of such a complex value chain—or even worse, specific companies within the chain—will weaken the competitive forces of a free market that correct for poor performance and poor alignment with the market demand," she said.
Porter isn't entirely against government intervention in the chip market. She noted that the majority of the global foundry market exists in a single company, Taiwan Semiconductor Manufacturing Co. (TSMC).
But she reiterated that government intervention should target specific national security needs, and highly disagrees with the notion that microchip subsidies or protectionism would help the United States lead China in terms of technological advancements.
"Even if you could build a TMSC clone in Arizona or anywhere else, so what? If the demand signal doesn't want it, if you're not talking to the design houses and the other customers—the Apples, the Qualcomms, the AMDs, and so forth—what do they want? They drive this industry," she told committee members on July 20.
"The DoD [Defense Department] and the IC [intelligence community] do not drive this industry. So if they think they're going to be able to put something special off to the side, all they're going to do is isolate themselves from the state-of-the-art [technology] that's going to be driven by the commercial sector," she said.
Supply Chain Disruption
Porter's statements go against recommendations by top officials from the same agencies she's led and worked for. But Stewart Baker, a former general counsel for the National Security Agency (NSA), said he doesn't find it surprising that Porter would constructively contribute to the discussion.
"I bet she'd say she shares the goals of the authors of the [CHIPS for America Act] but thinks that it has oversimplified the problem and the solution," said Baker, who now is a partner at the law firm of Steptoe & Johnson.
Baker told The Epoch Times that he agrees with some elements of what Porter said.
"The real difficulty is that building all our chips in the U.S. won't guarantee security, and careful security standards at every stage of manufacture won't guarantee security, either," he said.
The NSCAI, for its part, provided The Epoch Times with a statement responding to Porter.
"There is not a single fabrication facility in the United States capable of producing the most advanced semiconductors that fuel our economy and power our military," said NSCAI spokeswoman Tara Rigler. "This means U.S. companies and the U.S. government rely on foreign sources—primarily in Taiwan—for production of the cutting-edge semiconductors critical for defense systems and industry more broadly."
Rigler said the U.S. supply chain is vulnerable to disruption by foreign government action or natural disaster, and that's a risk that requires urgent action by policymakers. She said that subsidies are just one aspect of a larger microelectronics strategy.
"Such a strategy would take into account supply and demand signals to shape subsidies, tax credits, workforce training programs, and other government programs while also maximizing competition and minimizing market distortions," Rigler said. "A national microelectronics strategy is a critical first step to guide any funding that may be provided by Congress for semiconductors and help ensure it is spent wisely."
July 22, 2021 8:19 pm