MPs May Only Get a Vote on the 'Concept' of Vaccine Passports, UK Minister Says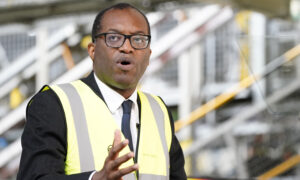 MPs may not get a comprehensive vote on the introduction of coronavirus vaccine passports for entry into nightclubs, a Cabinet minister suggested, as the UK government faced a possible defeat.
Business Secretary Kwasi Kwarteng said on Thursday he was "confident" the government would win a Commons vote but suggested it could just be on the "concept" of vaccine passports.
Conservative rebels are planning to ally with Labour to defeat the plan to make full vaccination a requirement of entry for clubs and venues with large crowds from the end of September.
With at least 42 Tory MPs having signalled they would not vote in favour of vaccine passports, the government faces the real prospect of a Commons defeat.
But Kwarteng told BBC Radio 4's Today programme that he's "very confident" the government can pass the legislation it requires.
"I don't know what the proposed vote will be, you can never tell what the actual vote in the House of Commons in terms of the wording and what the position is," he said.
"It might just be a general vote on the concept, even, of vaccine passports, these votes can take any form that you can imagine," he said.
"If the vote does occur, I'm confident the government will preserve a majority."
Vehement critics of vaccine passports, the Lib Dems accused the government of being "afraid to take a straight fight."
"This is a government that's got a big majority so if they were to resort to Parliamentary shenanigans and bundling measures together to try to force vaccine passports through, it would signal that they have no confidence in their ability to convince people in an honest way," Home affairs spokesman, MP Alistair Carmichael MP said.
"[Prime Minister] Boris Johnson pretended to care about civil liberties before he came to power and has become a 'Stalinist' libertarian now he is in government."
There have been suggestions that Johnson was using the plan as a way to boost the uptake of vaccines for younger people, but No 10 seemingly dismissed this.
The Prime Minister's official spokesman said on Tuesday: "This is the policy that the Prime Minister has set out and this is what we will be introducing by the end of September."
At least 42 Conservative MPs signed a petition launched by privacy rights group Big Brother Watch against COVID certification being used for "general services, businesses, or jobs."
Currently, the use of the NHS app to demonstrate whether clubgoers are vaccinated or have had a negative test is voluntary.
Announcing the plan to introduce vaccine passports for crowded venues on Monday, Johnson said that the "proof of a negative test will no longer be enough."
The main opposition Labour Party said it considers testing more efficient than vaccine passports.
"We need to see the detail of what the government puts forward regarding vaccine passports," a Labour spokesman said.
"We oppose the use of COVID vaccination status for everyday access to venues and services. It's costly, open to fraud, and is impractical," he said.
"Being double jabbed doesn't prove you aren't carrying the virus. Testing for access to venues would be more efficient, and would give people and businesses more certainty."
By Sam Blewett
July 22, 2021 2:10 pm