The Drastic Makeover of Hong Kong: Dark Days Ahead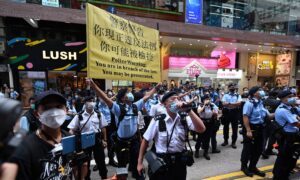 Commentary
The sinking of Hong Kong officially started on the eve of June 30, 2020 with the enactment of Beijing's national security law. Hong Kong has lost its glory and the defenders of our old core values have either fled the city, been detained or imprisoned. Hongkongers have used peaceful means to tell Beijing to leave their city alone and to honor Deng Xiaoping's version of "one country, two systems." However, the "two systems" model has failed.
With the drastic makeover in the electoral system and the ambiguous terms of the national security law, Hong Kong's rule of law is merging gradually into communist China's opaque legal system. And worse, professional associations have also been stripped of their powers–the communists in Hong Kong and China are in full control of the city's education, medical, financial, and legal sectors, just to name a few.
The revised Immigration Law will come into effect on Aug. 1. The Immigration (Amendment) Bill 2020 would empower the Hong Kong government to bar a passenger or a member of a crew from boarding a transportation carrier to enter or leave the city. You might see immigration officers carrying guns and steel batons inside and outside of the restricted airport area. The Hong Kong Bar Association raised their concerns early in February in a letter to the Legislative Council, saying "provisions would result in arbitrary and unjustified immigration detention in circumstances that are incompatible with fundamental human rights and long-standing common law principles."Airlines are required to submit information on their crew and passengers before arrival, through an Advanced Passenger Information system.
Now comes the bombshell that will take Hong Kong down completely. China's top leadership, the Standing Committee of the National People's Congress (NPC—China's rubber-stamp legislature) passed the "Anti-Sanctions Law" in June, which will give Chinese authorities the legal power to impose countermeasures against foreign sanctions. Critics believe that the "Anti-Sanctions Law" can be used as a powerful weapon to punish organizations and individuals who impose sanctions on China and Hong Kong, including their relatives. To make matters worse, some analysts believe China will use the law as a form of retaliation and will pressure institutions, businesses, and other nations to side with Beijing. The economic and political implication is huge for Hong Kong, and corporations might quickly leave the city in droves to avoid any political uncertainty.
Hong Kong used to give most people a level playing field to run their businesses—many entrepreneurs can survive in Hong Kong, and a few can become very successful. Hong Kong is not just a financial city, there are also long-established tradesmen and craftsmen.
Now, Beijing has clearly tightened its grip over the city by implementing draconian laws. The forced closure of Apple Daily and Next Magazine was surreal. The national security law is a lethal weapon used to punish any institution or individual for committing acts that Beijing deems as secession, subversion, terrorism, and collusion with foreign forces.
Hong Kong's drastic transformation puts a lot of pressure on the financial industry and businesses. The laws imposed by the Chinese regime on Hong Kong are meant to silence the so-called opposition and suppress every citizen. The DNA of Hong Kong is now being changed forever and even my friends who support the establishment have told me that they don't want to see the next generation grow up in a place where there is no free speech and the laws are ambiguous. Simply put, no one wants to live under tyranny.
With all the abrupt changes in Hong Kong, an increased exodus of capital outflow is happening. Those who leave might not want to come back in the near future. This time, it is not just the highly skilled middle class that will leave the city.
The 11 Hong Kong and mainland officials who were sanctioned by the U.S. Treasury Department under the Trump administration last year, have been criticized for destroying the city. The officials, including Chief Executive Carrie Lam, were sanctioned "for undermining Hong Kong's autonomy and restricting the freedom of expression or assembly of the citizens of Hong Kong," according to a statement from the U.S. Department of the Treasury. The Chinese regime was also criticized by other countries for encroaching on Hong Kong's freedoms.
Beijing retaliated by sanctioning U.S., Canadian, and European Union officials. It's sad to see that Hong Kong has been the biggest loser in the sanction wars between China and the Western superpowers.
Recently, one of my business contacts in Hong Kong expressed concern and asked me, "Do you think Carrie Lam and these sanctioned officials are still in their right mental state of mind to administer Hong Kong?" I didn't know how to respond.
With Apple Daily now gone, most people would doubt whether Hong Kong can still be intact and free from Beijing's influence. I believe the political massacre of the city's freedoms hasn't stopped yet and I see more turmoil in the near future. Let's defend Hong Kong the best we can, even though we all know that it will be dark days ahead.
Edward Chin runs an investment company. Chin was formerly Country Head of a UK publicly listed hedge fund, the largest of its kind measured by asset under management. Outside the hedge funds space, Chin is the Convenor of 2047 Hong Kong Monitor and a Senior Adviser of Reporters Without Borders (RSF, HK & Macau). Chin studied speech communication at the University of Minnesota and received his MBA from the University of Toronto. Twitter: edwardckchin Youtube: Ed Chin Live Facebook.com/edckchin  Email: edckchin@gmail.com
Views expressed in this article are the opinions of the author and do not necessarily reflect the views of The Epoch Times.
July 23, 2021 5:02 pm