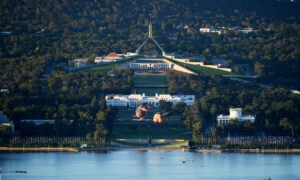 The Australian Capital Territory (ACT) has announced that it will enter a snap seven-day lockdown from 5 p.m., Aug. 12, after a single positive CCP virus case was detected in the territory and traces of the virus were also detected in wastewater.
Authorities are investigating the source of the positive case's infection, who was active in the community during the infectious period.
ACT Chief Minister Andrew Barr described it as "the most serious public health risk" the jurisdiction, which is home to the nation's capital, has faced this year. "This is why we'll be introducing a strict lockdown in response," he told reporters in Canberra on Aug. 12.
"We've said throughout the outbreak that we've witnessed 300kms up the road from Canberra in Sydney, that the lessons learned from that, and from elsewhere around Australia, are that immediate and significant public health responses are needed to get ahead of this Delta strain," he said, referring to the more transmissible variant of the CCP (Chinese Communist Party) virus, which causes the disease, COVID-19.
"This is the best path to pursue, to protect the health of the community and to avoid even more damaging and prolonged lockdowns and more significant economic consequences for our community," he added.
The seven-day lockdown will be the second for the region since March 2020.
"During this time Canberrans, are being asked to only leave their homes for essential reasons—essential employment, healthcare (including a COVID-19 vaccination), essential groceries and supplies and up to one hour of outdoor exercise," an ACT government statement read.
"General retail will be closed, and hospitality venues will only be able to operate takeaway services. We will be asking any businesses that have to remain open to actively prevent any browsing in their stores."
Barr warned residents against "going to Bunnings to browse" or "hang around the local shops," urging them to instead, "get in, get what you need, then leave."The objective of this is to reduce the movement of people who might potentially carry the virus, he said.
Residents are being urged to take precautions, including practising good hand hygiene and using the Check-In CBR app when they leave home.
Mask wearing will also become mandatory when the lockdown starts.
A new testing clinic is being stood up at the Brindabella Business Park, with operating hours and capacity increased at the Weston Creek Walk-In Centra and EPIC drive-through clinic, the statement read.
August 12, 2021 2:45 am