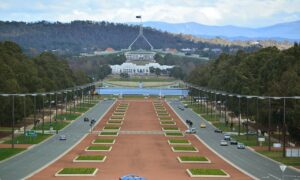 Year 12 students in Australia's capital city Canberra and its surrounds have been told they will have a two-week window from Monday to receive their first COVID-19 vaccination, allowing them to attend final exams in a COVIDSafe environment.
The cohort is being urged to book appointments for the vaccination through a government clinic or their personal GP.
Australian Capital Territory (ACT) Chief Minister Andrew Barr said the capital had access to an additional 5,500 Pfizer vaccines that were being reserved for students and educators.
"We have allocated Pfizer doses for year 12 students across all schools—public, private, catholic, independent—to have this priority over the next two weeks," Barr said.
"Getting a vaccination within the next two weeks will provide a level of protection for Year 12 students and exam staff ahead of the AST Scaling Test," he said. "This will at least provide effective first-dose vaccination coverage ahead of their exams."
ACT Minister for Education and Youth Affairs Yvette Berry welcomed the news.
"We have seen that the Delta strain of COVID-19 is reaching our schools and early childhood centres," Berry said. "Providing vaccine protection and a level of certainty around assessments will support our young people who are planning their future in unsettling and uncertain times. I know how stressful Year 12 can be for our college students at the best of times, let alone during a global pandemic."
A vaccination hub will be opened at the Australian Insititute of Sports' arena to speed up the vaccination race.
"The AIS Arena Mass Vaccination Clinic allows us to ramp up our vaccination activity to match increases in supply," ACT Health Minister Stephen-Smith said.
"With a small boost from the Commonwealth's Singapore deal and a forecast small increase in weekly supply, we have been able to create 5,500 extra priority appointments across the next two weeks.
But he noted that even with priority appointments, it might take several weeks for educators to receive their first dose. He recommended those seeking to get vaccinated sooner to speak with a trusted health professional about considering the alternative AstraZeneca vaccine.
Booking for the students and teachers need to be made by phone (02) 5124 7700 and cannot be booked online using the MyDHR system.
Staff eligible for a priority booking will be contacted directly by their school, early childhood centre, or out of school hours care service with booking information.
September 6, 2021 4:51 am