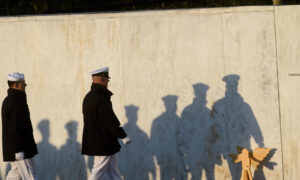 Pennsylvanians across the state came together on Saturday at various ceremonies to commemorate those lives lost during the 9/11 terror attacks 20 years ago.
One such observance was held at the Washington Memorial Chapel in Valley Forge National Historical Park. This remembrance service paid tribute to Louis J. Nacke II, who is laid to rest in the chapel's cemetery.
Nacke,  a director for a distribution center for Kay-Bee Toys, was onboard United Airlines Flight 93 when it was hijacked. He, along with other passengers, confronted the hijackers before the aircraft crashed in an empty field in Shanksville, Pennsylvania.
Forty passengers and crew members died, as did the four hijackers.
The civilians kept the plane from being used as a weapon against the White House or the U.S. Capitol.
Throughout the ceremony, the chapel's carillon tolled its bourdon bell for two minutes to commemorate the moments each hijacked plane struck the Twin Towers, the Pentagon, and when Flight 93 fatally crashed: 8:46 a.m. (South Tower); 9:03 a.m. (North Tower); 9:37 a.m. (Pentagon); 9:59 a.m. (South Tower Collapse); 10:03 a.m. (Flight 93); 10:28 a.m. (North Tower Collapse).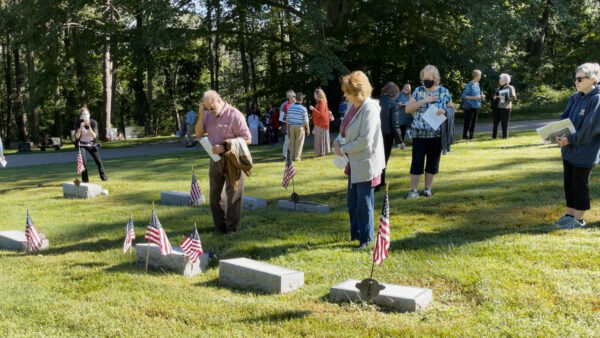 After the service, prayers were said for both 9/11 victims and those who died recently in Afghanistan.
The ceremony was to give people "an opportunity to grieve and to remember that sad day," and continue to "remember, pray for the souls of those who died, their families, and a nation that continues to mourn after those horrible events," said Father Tommy Thompson, rector of the Washington Memorial Chapel.
"Every year when we remember this, it invites us not to take for granted the freedoms and liberty that we have," Father Thompson told The Epoch Times. "It's enabled us to see each other better than we did before and to love one another, and to hold the things that matter close to us."
Later that day, RightForBucks, an organization advocating for the prosperity, liberty, and safety of the people of Bucks County, held a special event at the Cactus Grill in Pipersville, Pennsylvania. They honored 9/11 with speeches, dinner, and band performances.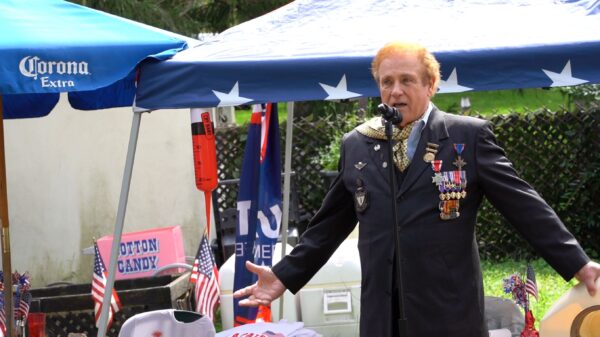 David Christian, veteran, co-founder of Vietnam Veterans of America, said terrorism couldn't scare him because he's an American. He called for Americans to "go shoulder to shoulder" during hard times.
"After 9/11, the whole Congress came together. The whole Congress stood under one flag. They carried one flag. They said the Pledge of Allegiance together. They sang God Bless America together," Christian told The Epoch Times.
"We weren't Democrats and Republicans after 9/11. We were Americans. We're Americans today. We're Americans tomorrow, and Americans will come together. So, I will bleed for you, my brother, and you will bleed for me in defending this nation and defending these freedoms," he said.
Also at the event was Charles Strange who is the Goldstar father of Michael Strange,  a member of SEAL Team Six that carried out the mission to kill Osama Bin Laden on May 2, 2011. Several months later Michael was killed in Afghanistan along with 37 other men, including other members of SEAL Team Six, when the Taliban shot down their Chinook helicopter.
"I lost a piece of my heart when my son died in the Middle East," Strange told The Epoch Times. "What these terrorists did from the Middle East is frightening."
He was thankful for the country's military, police, and first responders.
"Imagine how bad it would be without them," Strange said. "We take each other's back, we help each other just like my son and the men … Thank God, we got these young men and women [who] still join up for our military."
Rick Saccone, former State House of Representatives in Pennsylvania, said that commemorating 9/11 is also seen by many as a moment that brings the country together, regardless of political party or philosophy.
"When we think about days like 9/11, hopefully, it'll be a bridge for us to say once again, let's put aside all our political differences for a moment and remember what brings us together," said Saccone who is a retired U.S. Air Force officer, and candidate for Lt. Gov. of Pennsylvania.
"Our common ground is we're Americans, we should believe in those basic freedoms as basic constitutional rights. And let's go back to that. Let's start that conversation again," he said.
Saccone said commemorating 9/11 is important and it must be taught to "our children and grandchildren" so they understand its significance.
"We have to keep that alive because, for them, they have no memory of it," he added.
September 15, 2021 4:58 am