A Costa Mesa, California, man has been accused of flying a drone filled with drugs into the Theo Lacy Jail Facility while coordinating with a female inmate through a phone inside the jail.
The drone was originally found in the grass area inside the facility by an inmate worker two days after it crashed Sept. 12, and the inmate alerted sheriff's deputies to it. It was carrying 2 grams of heroin, 4 grams of methamphetamine, 15 Xanax pills, and 15 muscle relaxers.
The Orange County Sheriff's Department Custody Intelligence Unit arrested Chey Cody Smart, 43, in his Costa Mesa apartment on Sept. 14—the same day the drone was found—after investigators determined he was the one flying the drone. Police also found meth, cocaine, Xanax, fentanyl, and heroin, as well as several rifles inside his apartment.
Files found in his apartment also indicate that he allegedly used a false identity to rent the apartment and to buy a 2018 BMW. Police also found the drone's controller.
Smart was also determined to have a warrant for his arrest issued in Mendocino County, California, for felony weapons charges, and was previously convicted for a drug-sales related felony.
The female inmate, Megan Elizabeth Donovan, 30, from Fountain Valley, is believed to have directed Smart on where to land the drone inside the jail. She also has a previous conviction for bringing drugs into a jail facility.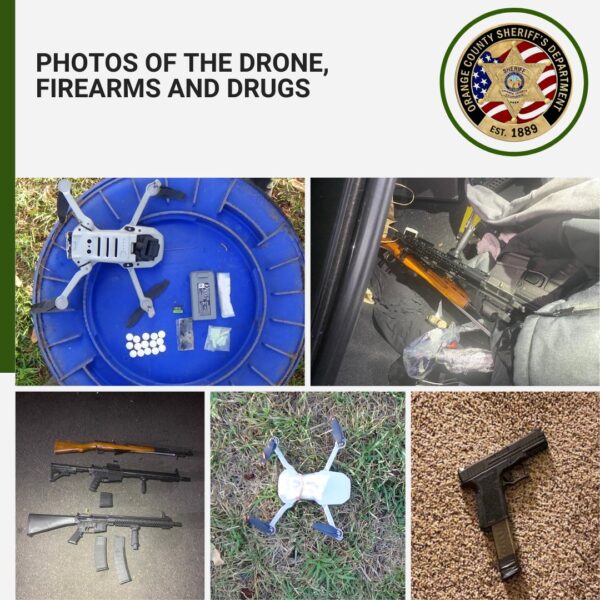 Both were charged with one felony count of smuggling controlled substances into a correctional facility and one felony count of conspiracy to commit a crime.
Smart is also charged with 14 different felonies and misdemeanors for the drugs, guns, and fake identities found in his home. He faces up to 12 years in state prison and almost six years in Orange County jail if convicted on all charges.
Donovan faces up to five years in jail on top of her current sentence.
It is unclear how Smart and Donovan knew each other, as well as how investigators linked the drone back to Smart.
"The Custody Intelligence Unit is extremely proactive in intercepting narcotics attempting to come into our jails," Sheriff Don Barnes said in a statement.
"They have dropped an investigative strategy that includes locating the outside entities attempting to bring narcotics into our facilities, and this case is a great example of that work. We will continue to stay diligent in keeping those entrusted to our custody and care safe, and we will hold accountable those who attempt to threaten that safety."
"Orange County has seen a resurgence in drug traffic and the jails are no exception as criminals are becoming increasingly creative in their attempts to smuggle drugs into correctional facilities," Orange County District Attorney Todd Spitzer said in a statement.
"Bringing drugs into a custodial setting is not only illegal, it puts the lives of inmates at risk and jeopardizes the safety of the deputies and other staff who work in those facilities. Thankfully the Sheriff's Custody Intelligence Unit was quickly able to identify and arrest the drone operator and his inmate conspirator so that they can be held accountable."
September 17, 2021 10:16 pm