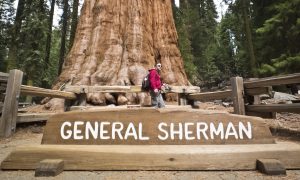 As wildfires continue to run throughout Northern California and the Sequoia National Park, the world's largest trees remain standing.
Earlier last week, officials rushed to cover the base of the 275-foot-tall, 25-foot-wide General Sherman Tree with fire-resistant material as the upstate blaze threatened its stability.
As of Sept. 19, Southern Area Blue Team's Operations Section Chief Jon Wallace shared that the lightning-sparked KNP Complex fire has grown to 21,777 acres, but the security of the General Sherman Tree remains.
"All the protections in the Giant Forest are going really well," Wallace said on a Facebook update.
Wallace stated the area was experiencing gusty winds that could result in high fire behavior. As personnel work to preserve General Sherman, sprinklers are being run around the tree to ensure the land remains wet.
"It's going to be another long day with those Northwest winds … firefighters are going to stay busy here again today," Wallace said.
The estimated age of General Sherman is between 2,200 and 2,700 years old.
According to reports released on Sept. 20, current weather conditions around the national park are cool and moist with stronger winds.
The KNP Complex blaze erupted on Sept. 9 and is made up of the previously known Colony and Paradise fires that merged.
September 20, 2021 11:37 pm