A Canadian court has dropped U.S. extradition proceedings against Huawei chief financial officer Meng Wanzhou, lifting her bail conditions and allowing her freedom.
The decision comes hours after Meng reached a deferred prosecution agreement with the U.S. Justice Department in a U.S. federal court in Brooklyn.
Attending the U.S. court virtually from Vancouver, Meng pleaded not guilty on charges relating to bank and wire fraud, but acknowledged the thrust of the charges against her under an agreement with U.S. prosecutors.
Under the agreement, Meng will have charges against her dismissed after Dec. 1, 2022. The agreement doesn't include the release of Canadians Michael Kovrig and Michael Spavor, who remain in prison in China.
Assistant U.S. attorney David Kessler told the U.S. court that the deal requires Meng to agree to a "statement of facts."
"Should the offices pursue the prosecution that is deferred by this agreement, Meng stipulates to the admissibility of the statement of facts … in any proceeding against her," Kessler said.
"Meng further agrees that she and her lawyers, and representatives authorized to speak on her behalf, will not make any statements after entry into this agreement that may contradict any of the facts in the statement of facts."
The statement of facts include charges that Meng portrayed Hong Kong company Skycom, which has operations in Iran, as a separate entity than Huawei, whereas Skycom a wholly owned subsidiary of Huawei.
"As Meng knew, Skycom was not a business partner of, or a third party working with, Huawei," the document says. "Instead, Huawei controlled Skycom, and Skycom employees were really Huawei employees."
Meng was arrested in Vancouver on Dec. 1, 2018, on an extradition request from U.S. officials, who later charged her with bank fraud for allegedly lying to another organization about about Huawei's business dealings with Iran, leading the organization to violate U.S. sanctions.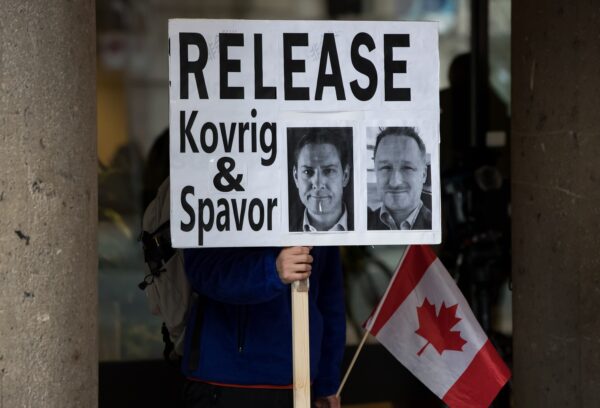 Following Meng's arrest, Beijing threatened Canada with dire consequences if she was not released. A few days later on Dec. 10, 2018, Kovrig and Spavor were arrested. In early 2019, a Chinese court changed a 15-year jail sentence given to Canadian Robert Schellenberg on drug charges to a death sentence.
The regime has also blocked Canadian agricultural imports to China, causing billions of dollars in lost revenue for Canadian producers.
On Aug. 10, as Meng's extradition case was winding up in Canada, a Chinese court rejected Schellenberg's appeal of his death sentence. The following day, another Chinese court sentenced Spavor to 11 years in prison on espionage charges.
The trial for Kovrig, who has also been charged with espionage, was held in March but he has yet to be sentenced.
Since her arrest, Meng had been free on bail, allowed to live at one of her mansions in Vancouver, and roam within a 62-square-kilometre section of Vancouver. She also received visits from her family from China.
Meng's fight against extradition reached its final stages this year. A B.C. Supreme Court judge overseeing the case said on Aug. 18 she is reserving her decision on whether Meng should be extradited, setting a date for her next update in late October.
Canada's extradition laws allow the minister of justice to intervene to block extradition, something that so far the Canadian government had refused to do.
Eva Fu and The Canadian Press contributed to this report.
September 24, 2021 9:40 pm