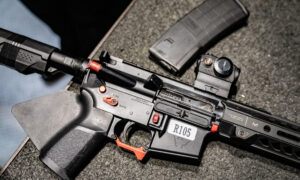 Counties in Southern California have been cracking down on ghost guns, with the Los Angeles Police Department (LAPD) calling ghost guns' prevalence an "epidemic," according to an LAPD report released Oct. 15.
The report, which was presented to the police commission board on Oct. 19, said that the use of ghost guns in the city has increased by nearly 400 percent since 2017.
"It's dramatically going up, and it is going to eclipse last year's totals, potentially by 1,000 plus guns," LAPD Deputy Chief Kris Pitcher told the commission during the meeting.
Ghost guns, also known as kit guns, are sold partially assembled and can be completed using purchased parts. The LAPD's report noted that 3-D printing makes obtaining parts especially convenient. The unfinished parts are not legally required to have serial numbers or a background check to purchase and are often sold at gun shows or online.
"When sold without background checks, end up in the possession of felons," LA Councilman Paul Krekorian said in August. "In Los Angeles, ghost guns were a factor in the sharp rise in homicides in 2020. This motion enables the city to move aggressively to significantly reduce the number of non-serialized firearms in our communities."
Also on Oct. 19, the San Diego County Board of Supervisors voted 3-2 to draft an ordinance banning possession or distribution of ghost guns and non-serial numbered parts used to build firearms. The county's chief administrative officer will return within 90 days with a draft ordinance.
Some, such as San Diego Supervisor Shaun Frederickson, oppose the ghost gun ban, arguing that ghost guns are a non-issue since California already has strict gun laws and a registry.
Others argue that the LAPD's numbers are taken out of context in an effort to scare people into demanding regulation on guns.
"It seems like the bigger issue is how little California's gun control laws have done to keep conventional firearms out of the hands of criminals, which account for 90 percent or more of the "gun crime" in Los Angeles," Tom Knighton wrote of the LAPD's report in the Bearing Arms website.
"For 'ghost guns' to be a real epidemic, it would seem that they'd have to account for more than just a small percentage of the weapons used in Los Angeles' growing violent crime problem."
In 2002 the LAPD recovered 813 ghost guns, while 863 ghost guns were recovered in the first half of 2021. As of now, 1,445 ghost guns have been recovered this year, a 202 percent increase over last year, according to the report.
Pitcher said that ghost guns are being recovered more frequently, and drew a connection between the increase in ghost gun recovery and an increase in shootings and homicides.
"In 2021, the city has experienced 320 homicides, we're up 15.9 percent, and in terms of shootings, we've had 1,165 so far, which is an increase of 20 percent," Pitcher said. "So, I want to make the connectivity there as ghost guns are being recovered more frequently."
The LAPD's report comes after the LA city council directed the LAPD to report on the impact of ghost guns in the city, resulting in the report presented to the police commission on Oct. 19.
Council also ordered the city attorney's office to draft an ordinance banning the possession, purchase, sale, receipt, and transportation of ghost guns in the city on Aug. 31.
Orange County has also seen a recent proliferation of ghost guns.
According to the Santa Ana Police Department, seizures of ghost guns have risen dramatically in the last year compared to regular firearm seizures.
In 2021, almost 120 ghost guns have been seized in Santa Ana as of Oct. 19.  In the same period in 2020, the city only seized 50 ghost guns—nearly a 140 percent increase over 2020.
Compared to regular gun seizures, the Santa Ana Police Department seized over 290 firearms so far this year. Over the same period last year, the department seized over 220 firearms—almost a 30 percent increase.
An LAPD spokesperson did not respond to a request for comment by press deadline.
Drew Van Voorhis contributed to this report.
October 19, 2021 11:58 pm