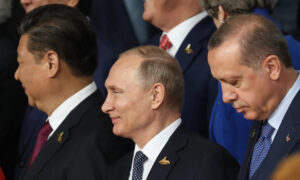 Russia, China, Japan, and Mexico have confirmed that they will not be attending the G20 meeting held this month in Rome which Italian officials hope will be an in-person event.
While Russian President Vladimir Putin and Japanese Prime Minister Fumio Kishida will be taking part via video link, Mexico will be sending Foreign Minister Marcelo Ebrard in place of President Andres Manuel Lopez Obrador.
United States President Joe Biden has confirmed his presence at the Oct. 30-31 meeting along with leaders from Germany, France, Britain, Canada, Australia, India, Turkey, Argentina, South Korea, Saudi Arabia, South Africa, Indonesia, and the European Union.
Obrador has generally avoided traveling outside Mexico since taking office in 2018. He did not attend the G20 summit in 2019 before the pandemic went global.
According to RIA, Kremlin spokesman Dmitry Peskov said that Putin was avoiding the trip because of the recent upsurge in daily new COVID-19 infections in Russia. There were 33,434 cases registered on Oct. 18, while there were 19,999 cases on Sept. 18, an increase of almost 68 percent.
Putin had to self-isolate last month when several members of his entourage were tested positive for COVID-19. During recent conferences with Russian officials, Putin had been seen repeatedly coughing. He reassured officials that everything was fine when they voiced concern.
There has been no formal announcement regarding the presence of Xi Jinping but Chinese diplomats have told G20 envoys that Xi is not expected to attend. The reason given, according to people familiar with the matter, was the strict quarantine protocols to be followed by anyone entering China.
It is not yet clear whether he would attend via video. Xi did not attend a virtual G20 meeting regarding Afghanistan held earlier this month.
The new Japanese Prime Minister Kishida will be unable to attend the event because there is a general election in the country on Oct. 30.
There is also uncertainty regarding the attendance of Brazilian President Jair Bolsonaro. Two cabinet ministers and Bolsonaro's son were diagnosed with COVID-19 last month.
There is a United Nations COP26 climate change conference in Glasgow, Scotland following the G20 event. The position of the G20, which contributes to almost 80 percent of global emissions, will be critical to the UN meeting.
Xi is not expected to attend COP26 either. As China is responsible for around 30 percent of global carbon emissions, his stance is considered decisive.
October 20, 2021 4:36 am