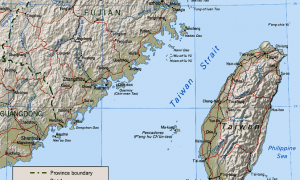 China is expanding and upgrading three airbases in a coastal province across from Taiwan. Experts say the move could facilitate incoming military jets at a potential Taiwan Strait frontline.
Satellite imagery shows China began expanding and upgrading the airbases in early 2020 at Longtian village, Hui'an county, and Zhangzhou city, all in southeastern China's Fujian Province, which sits across the sea from Taiwan, reported The Drive, an American tech and military site. Projects include runway and apron extensions, bunkers, hardened aircraft hangars, a new surface-to-air missile defense site, administrative buildings, and possible barracks.
The images show that building of the new infrastructure continued uninterrupted through the pandemic, indicating its priority.
Taiwanese military expert Chi Le-yi told The Epoch Times on Oct. 18 that all three airbases are close to Taiwan—roughly a seven-minute flight away—ranging between 135 and 250 miles from the island nation.
He believes the new projects are primarily for the purposes of transfer, logistic support, or resupplies, particularly when a large number of military jets arrived. China is seeking to put its air combat power closer to Taiwan, said the expert. The regime is also showcasing its increased preparedness and giving a warning to Taiwan and its ally the United States.
Chi noted that the three airbases, until recently, had not been expanded or upgraded for years.
Su Tzu-Yun, an associate research fellow at the Taiwan-based Institute for National Defense and Security Research, told The Epoch Times on Oct. 18 that the new additions could accommodate larger maritime patrol aircraft. The expert, judging from the satellite images, said he found both the runways and taxiways had been strengthened in preparation for the  takeoff and landing of large jets.
Moreover, the airports could serve as a temporary hub for army helicopters capable of crossing the Taiwan Strait and launching direct attacks on the island democracy.
Besides the airbases, the expert mentioned the construction of a high-speed rail line leading to the city of Zhangzhou, which previously hadn't received much attention. It is intended to connect to the city of Fuzhou, the capital of Fujian Province. Once completed, it could provide another logistics route for the regime. The rail could transport troops to Zhangzhou, where soldiers could then be sent to the three airbases, he said.
The rail line might be completed by late 2021 or early 2022, according to the expert. Public information shows the designed train speed would be approximately 217 miles per hour along the line.
Luo Ya contributed to this report. 
October 21, 2021 5:42 pm