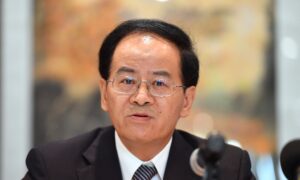 Beijing's controversial "wolf-warrior" ambassador to Australia, Cheng Jingye, has finished his post and will be returning to China.
Australia's Foreign Minister Marise Payne told a Senate Estimates committee on Oct. 28 that Cheng, who had arrived in 2016, was "about to depart if he has not already departed."
The ambassador has been the public face of Beijing's "wolf-warrior diplomacy" in Australia and began making headlines in April 2020 after Payne publicly called for an independent investigation into the origins of COVID-19.
Cheng's response was to make veiled threats and warn the federal government that pushing for an inquiry could see Australia-China bilateral trade suffer.
What followed was an economic coercion campaign that saw the Chinese authorities roll out a series of measures to disrupt key Australian exports, including barley, coal, cotton, hay, logs, meat, rock lobsters, and wine.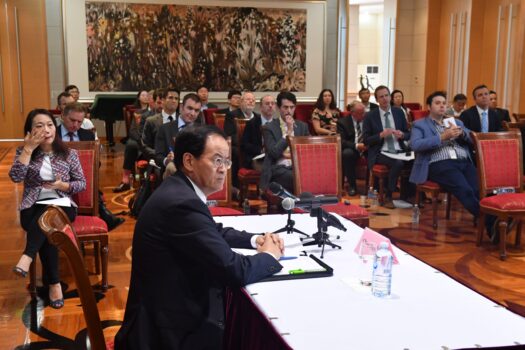 Federal Treasurer Josh Frydenberg estimated on Sept. 6 that the measures contributed to an AU$5.4 billion (US$4 billion) drop in exports in the year to June 2021. At the same time, however, exporters have been moving to alternative markets, which saw trade exports to other parts of the world increase by $4.4 billion.
Cheng also rounded on federal members of Parliament—including a Nazi slur against Senator Eric Abetz—who were critical of Beijing during a public inquiry into the Foreign Relations Bill. The law resulted in the cancellation of the Belt and Road Initiative (BRI) agreement between Chinese authorities and the state of Victoria.
Under his leadership, the Chinese Embassy also "leaked" a document containing 14 grievances that Australia had supposedly committed that were contributing to strained bilateral ties, including the ban on Huawei from the country's 5G network, foreign interference laws, and its stance on the BRI.
In April this year, the ambassador held an unprecedented two-hour-long presentation for media outlets attempting to paint a rosy picture of the situation in Xinjiang and downplay the Uyghur persecution.
Senator Payne told the committee, "I spoke to the Chinese ambassador some time ago now. My office spoke to him last week prior to his departure."
She also confirmed that Beijing had notified the government of a proposed successor but is yet to approve the pick.
October 28, 2021 7:46 am