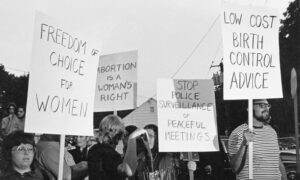 Mason became the second city in Ohio to criminalize abortion within city limits after a tense city council vote on Monday evening.
Located 25 miles northeast of Cincinnati, Mason, with a population of about 30,000 people, voted to ban abortions after four out of seven members of the city council supported the ordinance, which goes into effect in 30 days.
Mason now becomes the 41st city in the country and the second one in Ohio to offer "sanctuary for the unborn," an initiative started by a Texas nonprofit. There are currently no abortion clinics in the city, but supporters of the ordinance say that this will ensure no facilities are set up in Mason.
There was a split between Republicans who believe in banning abortions and those who don't, which was unexpected, according to Council member T. J. Honerlaw. Honerlaw, along with Tony Bradburn, Mike Gilb and Mayor Kathy Grossmann voted in favor of the ordinance, while council members Ashley Chance, Diana Nelson, and Josh Styrcula voted for abortion rights.
"I'm here to protect life. For me it's a fundamental issue. If the foundations be destroyed, what do we have left," said Vice Mayor Gilb at the meeting. "I'm not just here to decide how bright the street lights should be or where the next roundabout goes. Those things are certainly important issues, but they're not as fundamental as protecting life."
"America has a legal system in place to create order in our country. We must follow and abide by that system," Nelson, who has served on the council for five years, said. "The supreme court has made a ruling on abortion, regardless of one's opinion on abortion, creating local laws that contradict with federal laws is illegal and unconstitutional."
There were demonstrators from both ends of the aisle displaying fierce support with banners that read, "Protect the Unborn," and "Bans Off Our Bodies." Speakers were allowed to voice their opinions while some constituents shouted to vote out the members who supported the ordinance.
The ordinance makes it illegal for anyone in Mason to "aid or abet" an abortion, including the possession and distribution of abortion-inducing drugs like mifepristone and misoprostol. Violators can be punished with up to 180 days in jail or $1,000 in fines. There are no penalties for someone seeking an abortion.
Exceptions include dangerous, disabling, and life-threatening situations for the mother, and accidental miscarriages.
While Kersha Deibel, president and CEO of Planned Parenthood of Southwest Ohio, said to AP that the Mason ordinance opened up the city to "public ridicule, promised boycotts, and costly litigation," Mike Gonidakis, president of Ohio Right to Life, said that this decision by the city council was a "a stand against the violence of abortion and for the protection of women and babies."
Other smaller Ohio cities like London in Madison County and Celina in Mercer County are also considering implementing similar measures, and banning abortions within their city limits.
October 29, 2021 1:26 pm