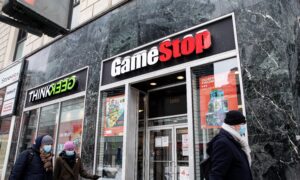 Here is a quick roundup of the top five stories from the technology, corporate and cryptocurrency sectors that investors would not want to miss out on from the weekend.
1. Johnson & Johnson Settles Risperdal Lawsuits
Johnson & Johnson (J&J) said it has settled most of the 9,000 lawsuits it faced over its anti-psychotic drug Risperdal and recorded $800 million in legal expenses related to the settlement in the third quarter.
The lawsuits accused J&J of failing to warn of the risk of a condition called gynecomastia (enlargement of the breast tissue in men or boys), associated with Risperdal.
2. GameStop COO Departure
GameStop Corp. disclosed in a regulatory filing that Chief Operating Officer Jenna Owens has left just seven months after joining the company. The videogame retailer, a Reddit-favorite stock, did not give reasons for the sudden departure of Owens, a former Amazon.com Inc. executive.
3. Musk-Inspired Cryptocurrency Skyrockets in October
Dogelon Mars, a meme cryptocurrency named after Tesla Inc. CEO Elon Musk, gained over 4000 percent in October. Dogelon, an ERC20 cryptocurrency built on the Ethereum blockchain, thanked its holders on Friday for their support in getting the coin listed on OKEx.
4. Cathie Wood's Facebook Bet
Popular money manager Cathie Wood's Ark Invest bought shares estimated to be worth $63.8 million in Facebook Inc. on Friday, a day after the Mark Zuckerberg-led social media company said it has changed its name to Meta Platforms Inc.
5. Snowden's Shiba Inu Warning
Whistleblower Edward Snowden has warned that people should not invest their hard-earned money in cryptocurrency Shiba Inu, which he called a "clone of dog money."
His comments come after the self-described "Dogecoin killer" outperformed Dogecoin to become the world's ninth-largest cryptocurrency by market capitalization again on Friday.
What Else
Among other stories from the weekend, investors would want to check out the EV week in review, Elon Musk laying a condition for helping the United Nations World Food Program (WFP), and fast-food giant McDonald Corp.'s foray into the non fungible token (NFT) market.
Tech giant Apple Inc. may launch its mixed-reality handset as soon as next year, Bloomberg's Mark Gurman said in the latest edition of his "Power On" newsletter.
By Madhukumar Warrier
© 2021 The Epoch Times. The Epoch Times does not provide investment advice. All rights reserved.
November 2, 2021 7:00 am