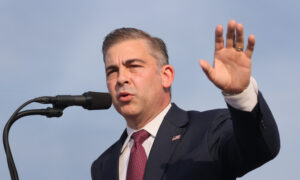 Republican Mike Carey has won a special election in Ohio's 15th Congressional District, and will replace former Rep. Steve Stivers (R-Ohio) in Congress, according to projections from The Associated Press.
Carey, a former coal executive who is backed by former President Donald Trump, was projected to have defeated Democrat Allison Russo on Tuesday. The seat was formerly held by Stivers, a Republican, before he departed Congress in April to become the president and CEO of the Ohio Chamber of Commerce.
He won the Republican special primary in August, and had been expected to win the general election for the seat, which represents the 15th Congressional District.
President Joe Biden on Monday had offered a last-minute endorsement to Democratic state representative Russo, a public health policy consultant. Russo raised more money in the district than any Democrat in history, according to The Associated Press.
"Pro-Trump. America First. Outsider. Ready to fight," Carey's campaign website states.
The 50-year-old's campaign website also features Trump's official endorsement, which describes him as a "courageous fighter for the people and our economy."
The former president's endorsement says that Carey is "Strong on the Border, and tough on Crime."
"As a Veteran, he totally supports our Military and his fellow Vets," the endorsement reads. "A strong supporter of the Second Amendment, Mike will do an outstanding job in Congress. He has my Complete and Total Endorsement!"
Carey, an Army National Guard veteran who grew up in Sabina, previously said he'll focus on "America first policies" championed by Trump, such as lowering taxes, working on fair trade deals, and investing in the military, if elected.
Trump in a statement congratulated Carey on his "fantastic victory in Ohio" on Tuesday.
"I am very proud to have endorsed him early and strongly. He will be a great congressman!" Trump wrote.
"#OH15 sent a clear message and rejected the radical socialist agenda. Thank you for sending @MikeCareyOH15 to Congress! He'll be critical to helping us retire Nancy Pelosi next year," former Secretary of State Mike Pompeo said on Twitter on Tuesday.
House Republican Whip Steve Scalise (R-La.) also extended his congratulations to Carey in a statement on Twitter.
"I know Mike will be the strong Conservative voice we need in Washington and I'm excited to work with him to deliver for the American people," Scalise wrote.
"I wanted to be somebody that could go and make a difference in Washington," Carey told supporters on Tuesday night in Lancaster, the Columbus Dispatch reported. "Believe me, we have too many career politicians in Washington. That's the last thing that I will ever be."
November 3, 2021 5:20 am