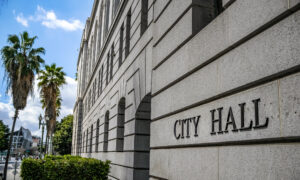 Amid the escalating housing crisis in California, the Los Angeles City Council will consider a motion Nov. 12 preventing online real estate corporations and private equity firms from purchasing affordable single-family housing as investments.
The motion was introduced by Council President Nury Martinez and seconded by Councilwoman Nithya Raman, who said the housing crisis has been worsened by online real estate companies like Zillow, Opendoor, and Rockethomes, who buy up affordable housing and sell them for a profit.
"These companies primarily target affordable, single-family homes and compete to buy up as much inventory as possible, flip them and then sell them for a profit," Raman said.
Martinez said in the motion that as of August 21, the price of homes in LA increased by 11.3 percent compared to the previous year. Zillow predicts Los Angeles housing costs will rise another 11.6 percent in the next twelve months.
"Low-income Angelenos, who have lived in their neighborhoods for decades, are unable to compete with these iBuyers," Martinez said. "This has led to many longtime residents being pushed out of their homes, neighborhoods, and communities."
The motion would instruct the chief legislative analyst and the city attorney to recommend strategies that LA can use to prevent online companies and private equity firms from buying up single-family housing.
This comes after California Gov. Gavin Newsom signed Senate Bills 9 and 10 in September, which allow more units to be built on property previously zoned for single-family housing to boost housing availability.
Council passed resolutions opposing each of the two California Senate bills in August, arguing that the bills do not actually help the state's housing crisis and only benefit real estate developers.
Back in August, Raman voted against the resolution that opposed Senate Bill 10, saying, "If we're going to tell Sacramento to stay out of our way when it comes to housing policies, then we, in Los Angeles, have to be willing to do the work ourselves, and all of the data that we have right now points to the fact that we haven't been doing it."
Councilman Gil Cedillo also voted against both resolutions, saying the Senate Bills included opportunities for the city to address concerns.
Jim Righeimer, former mayor of Costa Mesa, California, told The Epoch Times in a previous interview that Senate Bills 9 and 10 leads to people competing with corporations for housing.
"We're getting a situation where average everyday people are competing to buy a home against the corporation who's going to rent it out," Righeimer said. "And we get a situation where people become renters their whole life, they don't get to own anything."
Righeimer called the bills "the destruction of suburbia in California," arguing that this will ultimately cause prices to rise, worsening the housing crisis.
"If you add more units, in the short run, rents will come down a bit until they all get filled," Righeimer said. "Once they all get filled, rent starts moving up, and home ownership is going to get wiped out."
A PropertyShark report released Nov. 9 revealed that California accounts for 70 percent of the priciest markets, with LA coming in second place, tied with New York, for the highest number of expensive ZIP codes.
A spokesperson for Nury Martinez's office did not respond to a request for comment by press deadline.
November 11, 2021 12:43 am