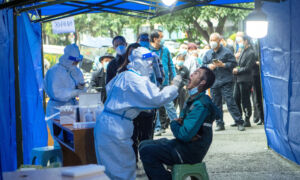 Authorities of a southwestern Chinese city said on Nov. 10 they had conducted more than 30,000 COVID-19 tests on visitors at a mega entertainment center, and rounded up those who tried to flee the site after a suspected case was linked to the venue.
Visitors to the large venue in Chengdu city, Sichuan Province, returned negative results on Nov.9, reported China Central Television (CCTV) on Wednesday.
New Century Global Center—a 1.7-million-square-meter venue housing numerous shops, offices, and a university—turned into a giant testing site on the late evening of Nov. 8, with all guests required to receive tests before being allowed to leave.
Local authorities attributed the mass testing to a need to contain the CCP (Chinese Communist Party) virus, but didn't offer more details.
A staff member told state-backed Beijing Radio and Television Station (BRTS) that the requirements were triggered after a possibly infected person was found to have visited the site on Oct. 31.
It's unclear how many people were affected on Monday. A video posted by BRTS shows miles-long queues awaiting nasal swabs and several people trying to escape through bushes.
Those who fled from the temporarily controlled area without authorization have been located via tracking services and tested, CCTV said.
Chengdu, along with several other Chinese cities, is using big data to trace any potential close contacts. At least 82,000 residents in the city received messages saying they were a "companion in time and space" with confirmed cases from Nov. 3.
The new term, "companion in time and space," means a person whose cellphone signals were detected in the same grid, measuring 2,600 feet by 2,600 feet, with a confirmed COVID-19 case for more than 10 minutes in the past 14 days. If the person or the confirmed case had stayed in the city for over 30 hours, Chengdu police would locate and notify the person to undertake nucleic acid tests twice in three days.
Until they receive two negative results, they are not allowed to venture outdoors and would see their health code turning to amber if they did go outside. A green code on the state-mandated health tracking app is essential for taking public transport and accessing shops.
On Monday, the health commission said they had tested over 9 million residents within five days.
The mass screening in Chengdu City comes days after a positive case temporarily shut down Shanghai Disneyland.
A woman who visited the theme park on Oct.30 tested positive when she returned to Hangzhou the day after. The link shut down the resort on the evening of Halloween and about 34,000 guests had to wait hours to receive tests in order to exit.
"I never thought that the longest queue in Disneyland would be for a nucleic acid test," a visitor said on the Twitter-like Weibo as fireworks went off above their heads.
The Chinese regime has responded swiftly and strongly to the new wave of infections, with regional lockdowns, travel restrictions, and mass testing. But the highly infectious Delta variant has spread to 20 provinces, including the capital Beijing.
Reuters contributed to this report.
November 12, 2021 10:27 am