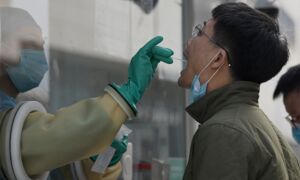 Beijing city has announced that individuals who have recently visited overland ports of entry at China's borders should avoid the nation's capital, with national authorities concerned about COVID-19 transmission from abroad as they battle a month-long outbreak while making preparations for the Winter Olympics.
People who have traveled in the previous two weeks to county-level administrative divisions with international overland ports of entry are advised not to enter the capital for non-essential purposes, Beijing Daily reported on Nov.13, citing a meeting chaired by the city's Communist Party chief Cai Qi.
Meanwhile, people who have visited county-level administrative divisions with confirmed cases, including a single infection, in the given 14-day period are banned from entering the city, the report read. Beijing residents traveling outside the city are also subjected to this requirement.
Those intending to enter the city should show proof of a negative COVID test result from the previous 48 hours and a green health code, Beijing Daily said.
The color code on a state-mandated smartphone app decides whether residents' movement can be restricted. People who lose a green code are barred from taking public transport, entering shops, and even leaving their homes.
A man living in the Haidian district of Beijing told The Epoch Times that the health code is checked at the gate of his residential compound.
"[They] measure temperature … check the health code, nucleic acid test result, and [require residents to] fill out a form," said the man who gave his surname Chen. He added that Haidian district has closed schools and almost half of the shops.
On Nov.1, the Commerce Ministry asked people and residents to keep daily necessities in stock in case of emergencies, which the state media interpreted as an effort to prepare for potential lockdowns.
Beijing city's latest restrictions on people's movement come amid the widest outbreak the country has experienced since the first appearance of the CCP (Chinese Communist Party) virus in Wuhan city in late 2019.
The current wave of infections has expanded to 21 of 31 provinces on the mainland, including Beijing, the national health authorities said on Saturday.
Once an infection was detected, local officials in a city with less than 5 million residents should test all within two days, said Guo Yanhong, an official of the National Health Commission, at Saturday's briefing.
China continues to use mass testing, lockdowns, and other stringent measures against local clusters along international borders and other areas at higher risk for transmission.
Among one of the worst-hit areas in nationwide COVID outbreaks, Ruili, China's border gate with Burma (also known as Myanmar), has endured a seven-month lockdown, leaving residents despairingly receiving regular swab tests.
Luo Ya and Reuters contributed to this report.
November 15, 2021 3:43 am