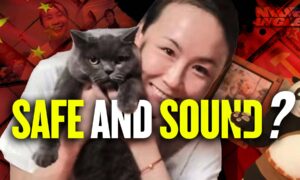 'Happy' Peng Shuai Videos & Photos Raise More Suspicions; Why IOC Accepts China's 'Peng' Propaganda
"She is safe and well … but would like to have her privacy respected at this time," the International Olympic Committee (IOC) relayed, this message apparently from Peng Shuai. Certainly, in many of the videos recently released by Chinese Communist Party media, she is smiling. But I think I would find a way to smile for the cameras, too, if my life depended on it.
The world-champion Chinese tennis player leveled an allegation of unprecedented magnitude against one of the Party's untouchables: Zhang Gaoli, who once held a position equivalent to vice president. Her explosive post on Weibo (i.e., China's Twitter) was rapidly "disappeared," not long before her account was also gone. Then she was gone.
She is now seen for the first time since the incident, in videos in which she's oddly silent, though seeming to enjoy herself. But what of the allegations that she's risked her safety and career to make? With all the attention on her reemergence, what of the retired CCP official who used his power to exploit her, only to later discard her? And what about these videos of Peng Shuai "safe," with mysterious elements that raise more suspicion than they put to rest?
Follow EpochTV on social media:
Facebook: https://www.facebook.com/EpochTVus
Twitter: https://twitter.com/EpochTVus
Rumble: https://rumble.com/c/EpochTV
Gettr: https://gettr.com/user/epochtv
Gab: https://gab.com/EpochTV
Telegram: https://t.me/EpochTV
Parler: https://parler.com/#/user/EpochTV
Read More
November 24, 2021 2:18 am