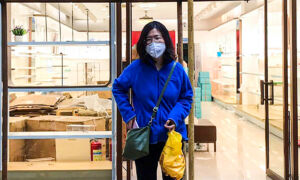 The United Nations and the European Union renewed their call for Beijing to immediately release a dangerously ill journalist who was imprisoned over her reporting during the early days of the pandemic.
Zhang Zhan, a 38-year-old woman, who has been detained in Shanghai since May 2020, can barely walk or raise her head without assistance after going on a 17-month hunger strike, said UN human rights experts on Nov.22.
According to the experts, the prolonged hunger strike has resulted in severe malnutrition, a gastric ulcer, and advanced edema of her lower limbs, and other complications. When officials sent her to a prison hospital in late July, she was reportedly tied to the bed and subject to force-feeding.
"Failure by the Chinese authorities to act swiftly and effectively could have fatal consequences for Zhang Zhan," the Special Rapporteurs warned in a joint statement.
"We urge them to immediately grant her unconditional release and ensure she receives the necessary medical treatment as soon as possible," they said.
Nabila Massrali, the EU spokesperson, repeated the call on Nov. 23 for the immediate and unconditional release of Zhang, saying Beijing's "restrictions on freedom of expression, on access to information, as well as the intimidation, surveillance, and detention of journalists, intellectuals, lawyers and activists" remained a source of great concern.
Prior to her detention, Zhang traveled to Wuhan and recorded local citizens' lives when the pandemic's epicenter experienced initial lockdown. In dozens of shaky cell phone videos uploaded on Youtube, she detailed her visits and interviews in hospitals, quarantine centers, and the Wuhan Institute of Virology, which challenged the Chinese Communist Party's (CCP) narrative.
Shanghai police arrested Zhang in May 2020 and held her for several months without official reasons provided.
On Dec. 28, 2020, Zhang was sentenced to a four-year jail term for 'picking quarrels and stirring up trouble,' a charge often used to prosecute dissidents.
The former lawyer turned journalist refused to plead guilty and started a hunger strike in protest of allegations against her.
Her family, as well as her lawyer, have been barred from visiting her in person. According to Zhang Ju, her Shanghai-based brother, the last time they saw her was on Oct. 29 via video chat.
"I don't think she can last a long time," he wrote in a post on Oct. 30. "I wish the world would remember what she looks like if she fails to survive this coming cold winter."
In the Tuesday statement, the EU urged Beijing to "take all necessary measures to ensure that Zhang Zhan receives urgent and adequate medical treatment, and is granted access to her family members, and lawyers of her choice."
The United States also called for her release on Nov. 19, saying Washington was deeply concerned about her deteriorating health.
International human rights groups, including Amnesty International, called for her release. In China, rights activists launched a petition calling for immediate medical care for her. As of Wednesday, nearly 700 Chinese people have put their names on the open letter.
On Nov. 17, Reporters Without Borders awarded Zhang with the 2021 Press Freedom Award in the courage category.
Zhang is among several other Chinese citizens punished by the regime for revealing the severity of the Wuhan outbreak. The Chinese regime further tightened the flow of information since the first appearance of the CCP virus in late 2019. The whistleblower Li Wenliang who first raised the alarm of the highly contagious virus in a group chat was reprimanded by police in January 2020. The doctor later died of the CCP virus.
November 24, 2021 4:25 pm