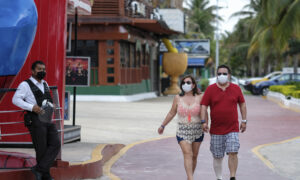 On Nov. 27, the nation's deputy health secretary, Hugo López-Gatell Ramírez, published a statement saying that travel restrictions and border closures were "unhelpful measures" that affect the economy and well-being of the people.
This comes as a response to the discovery of a new variant of the CCP (Chinese Communist Party) virus, called Omicron. The CCP virus, otherwise known as the novel coronavirus, is the virus that causes COVID-19.
The B.1.1.529 variant known as Omicron was first reported to the World Health Organization (WHO) from South Africa on Nov. 24. While the WHO admits there is presently no information to suggest the symptoms or severity of Omicron will be different from existing CCP virus strains, there are concerns over the number of mutations evident within Omicron, which is currently being studied.
In his statement, Ramírez said, based on the information available on the risks of the new variant, restricting travel and closing borders is disproportionate to what existing scientific evidence shows.
On Sunday, the WHO regional director for Africa, Matshidiso Moeti, urged the world to rely on international health regulations and science to avoid using unnecessary travel bans.
The CCP virus has killed 293,186 people in Mexico as of Nov. 26, according to WHO data. A spike in CCP virus-related mortalities happened in January this year, with 9,737 deaths reported the week of Jan 18.
Contrary to the approach used by many nations, Mexico never shut down its tourism sector during the peak of pandemic lockdowns. At present, the nation is entering its high tourism season (December–April), with millions of tourists arriving, many of which are from the United States. Revenue from foreign tourism generated a hefty 2.22 billion USD in July of this year.
"It [Omicron variant] has not been shown to be more virulent or to evade the immune response induced by vaccines," Ramírez said.
Brazilian officials announced the closure of their borders on Nov. 26 to six African countries to curb the spread of the variant. On the same day, Guatemala announced restricted entry for eight African countries. They are the first Latin American nations to implement country-specific travel restrictions due to the Omicron variant.
November 29, 2021 4:13 pm