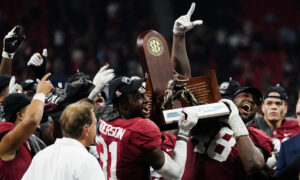 In a must-win situation for the #3 Alabama Crimson Tide in the Southeastern Conference Championship Game in Atlanta against old rival, the undefeated #1 ranked Georgia Bulldogs, the Crimson Tide completely dominated the second half to hand Georgia its first loss of the season, 41–24, and give themselves another opportunity at a national title.
Alabama had one loss coming into the game (12–1) and would potentially not receive a bid into the four-team playoff for the championship if #2–#5 all won. Now these two top teams will both certainly make the playoff.
Alabama QB Bryce Young had an incredible showing against a #1 rated Georgia defense that had shut down every opponent, giving up at most 17 points. Georgia's defense allowed a very low average of just under 231 yards of total offense and 6.9 points per game.
Young passed for 421 yards on 26–44 attempts, throwing three touchdowns, and rushed for 40 yards and a TD, a performance that will likely put him in position to win the Heisman Trophy.
"He played great tonight. He's played great for us all year long," said Alabama coach Nick Saban. "It's great to have him leading us."
"He's so good at avoiding the rush," Georgia coach Kirby Smart said. "He buys time with his mobility and makes plays downfield. Give him credit. He did a tremendous job."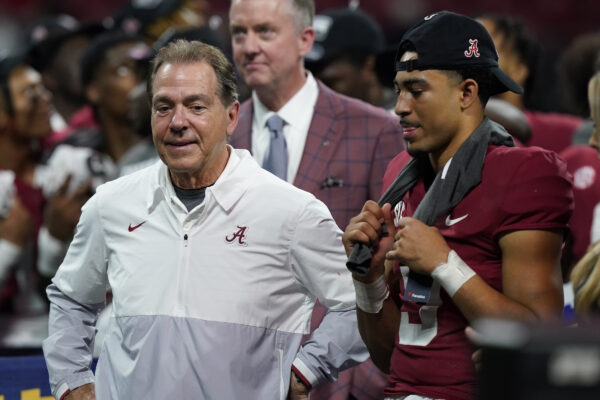 Alabama receiver Jameson Williams was Young's biggest target, catching seven passes for 184 yards and two touchdowns, while John Metchie III caught six passes for 97 yards and a TD before being injured late in the first half and not returning.
Alabama has now beaten Georgia the last seven times, while capturing its 10th SEC championship in 15 attempts.
Alabama coach Saban has a 4–0 record against his former assistant, Georgia coach Smart, and is 7–1 against Georgia overall.
"The resiliency they've shown all year makes this so special," Saban said. "Winning the game as we did last week, playing a game today to a level that most people probably didn't expect, I'm really proud of this bunch. They've shown tremendous ability to overcome adversity all year long."
Georgia QB Stetson Bennett completed 29–48 attempts for 340 yards with two interceptions. He completed touchdown passes to Darnell Washington, Ladd McConkey, and Brock Bowers; Bowers led the Bulldogs with 10 catches for 139 yards, and one TD.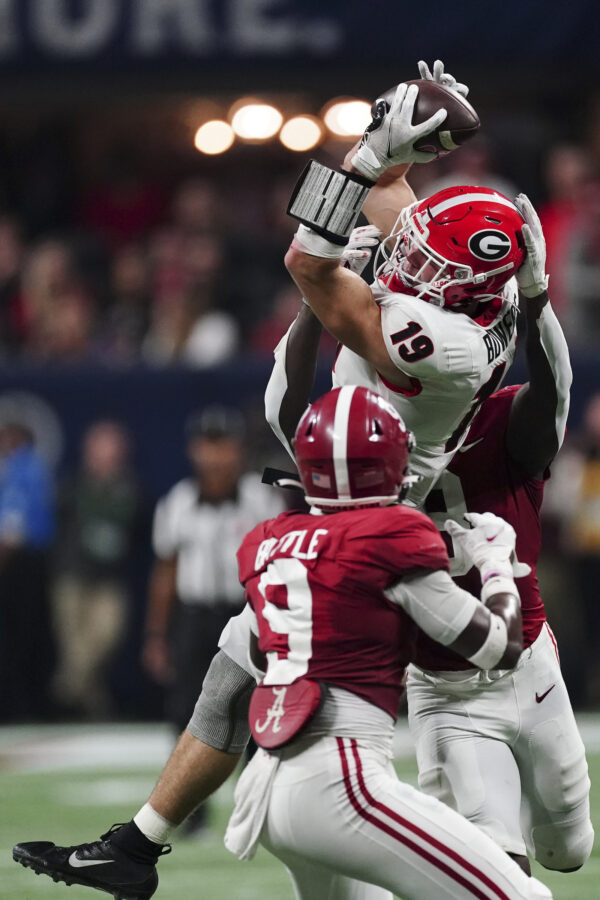 Georgia jumped on top scoring a Jack Podlesny 38-yard field goal on their second possession, and a 97 yard drive resulting in a five-yard TD pass from Bennett to Darnell Washington.
Alabama would counter to score two touchdowns and a field goal on their next three possessions to take a 17–10 lead with 5:13 in the first half.
The Tide scores came from drives of 75, 80, and 79 yards. The first was a Young touchdown pass to Williams of 67 yards. The following TD pass went to Metchie III for 13 yards, and Will Reichard kicked a 33-yard field goal.
Both teams would trade touchdowns, as Georgia would tie the score with a Bennett TD pass of 32-yards to McConkey (17–17), before Alabama took a 24–17 lead with Young's 11-yard TD scamper to end the first half.
The second half belonged to the Tide, beginning on the first drive in which Williams caught another bomb of 55 yards from Young to make it 31–17.
Bama's DeMarcco Hellams would then intercept Bennett at the Crimson Tide nine-yard line to stop a scoring drive.
With 11:59 remaining in the fourth quarter, Alabama's Jordan Battle intercepted Bennett for a pick-6 and ran it back 42 yards to increase the lead 38–17.
Georgia would score a touchdown on the ensuing drive, 9:42, of 75 yards with an 18-yard Bennett pass to Bowers to come within two touchdowns 38–24.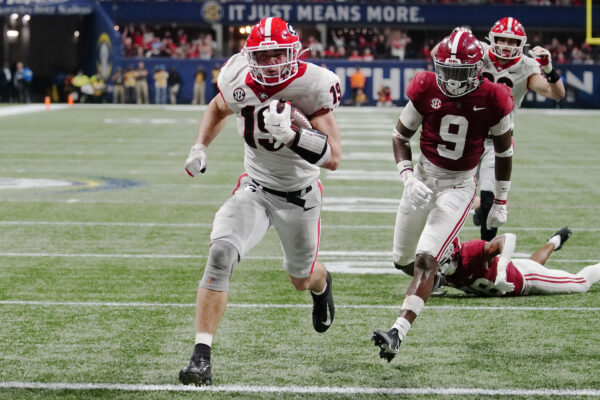 That would be as close as Georgia would get as the Bama defense clamped down, shutting the Bulldogs out of the remainder of the game.
Alabama went on a 62-yard drive that lasted over five minutes to score another Reichard field-goal of 41-yards, and effectively end the game with a scoreline of 41–24.
These two powerhouses will possibly meet each other again in the playoffs, which includes #2 ranked Michigan and #4 Cincinnati, as they both won to hold their positions in the top four.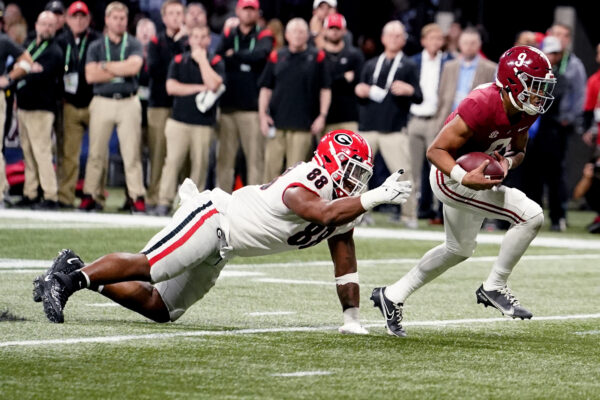 December 5, 2021 10:18 am