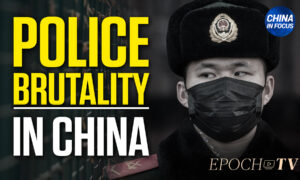 China's police force has long been known for its frequent miscarriages of justice. Those cases have taken the forms of police violence, beatings, and even torture. Very few see leniency once they're accused of violating the law.
And some incidents, caught on tape, capture officers exercising little to no reservation in beating even women, children, the elderly, or the handicapped. In severe cases, those beatings have led to death.
Though police violence has become a hot topic in nations around the world, few countries can match the severity of some Chinese police and their brutality record.
In this special report, we look into a handful of those many reports and explore what the Chinese Communist Party is—and isn't—doing about them.
Have other topics you want us to cover? Drop us a line: chinainfocus@ntdtv.org
And if you'd like to buy us a coffee: https://donorbox.org/china-in-focus
Subscribe to our YouTube channel for more first-hand news from China.
For more news and videos, please visit our website and Twitter.
Follow us:
EpochTV Facebook: https://www.facebook.com/EpochTVus
EpochTV Twitter: https://twitter.com/EpochTVus
December 16, 2021 1:45 am