As more countries are diplomatically boycotting the Beijing Winter Olympics in support of China's female tennis star Peng Shuai, once China's national pride—a former sports champion says the Chinese Communist Party "is not qualified to host the Olympics."
Huang Xiaomin, the silver medalist in the women's 200-meter breaststroke at the 1988 Seoul Olympics, was named one of the "Top 10 Best Athletes in Asia" in 1987.
In an interview with the Chinese edition of The Epoch Times, Huang expressed her support of Peng Shuai's courageous exposure of the scandal involving a retired senior official of the regime, and gave her personal experience of how Chinese athletes were manipulated by the dictatorship.
"Peng Shuai was doing what she's supposed to do," Huang said.
Huang was once an athlete of China's national team. She is now residing in South Korea.
She said that under the regime's system, athletes become nothing once retired; regardless of their achievements, everything starts from zero.
To survive, especially for the female athletes, "willingly or unwillingly, they resort to a big daddy, which is very popular in China today." Huang spoke of the cruelty under the communist regime—for the average athlete, these stories don't even get to make a ripple.
"The media is controlled, the news is controlled," she said.
Doping Is a State Behavior
Huang indicated doping is only part of the misery behind the halo of the Chinese athletes' success, "there's no self, rights, or dignity. The Party decides what to do, the coach tells you what to do, and you'll just have to obey."
Reflecting on her own experience, she said "it would take six to eight years of great effort, with that daily and heavy load of training and intensity, to succeed and to get an Olympic medal."
She recounted the mechanism behind the doping administered by the coach. For a highly promising athlete, there's a set of well-defined and carefully designed training programs along with the doping scheme; such as the dosage for week one and two, the dosage for week three to six, and so on, or the set dose after one season. There's a systematic plan.
She said the doping is humiliating, but "it's a state decision."
Under the communist system, an athlete's worth means nothing to the regime after retirement.
Referring to Peng Shuai's incident, Huang said that despite her great achievements and international recognition in women's tennis, "that's her final fate."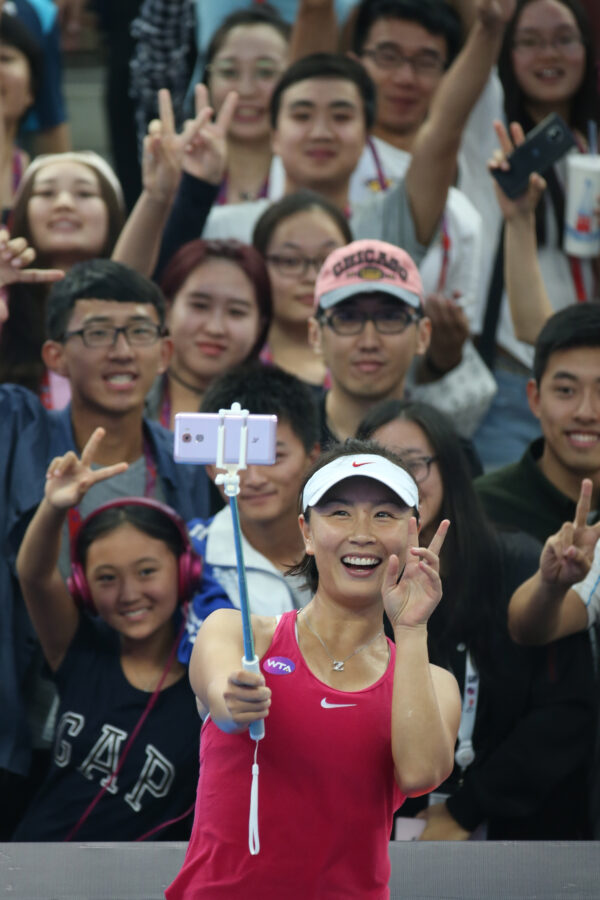 Huang explained that many Chinese athletes retire with lingering illnesses and wounds and are desperately in need of food, a doctor, and a job.
In fact, the intense doping and training mechanism often results in multiple illnesses and injuries, as well as the early retirement of Chinese athletes.
Take Ai Dongmei, the 1999 Beijing Marathon gold medalist, as an example. She won a total of 19 medals before her retirement in 2003 at the age of 22. However, her injuries kept her away from farming; her illnesses and joblessness forced her to post her medals online for sale in 2007, when she and her husband, also a retired trainee, could only make a monthly earning of $94.18 for a family of three.
According to her parents' statement to the media in 2007 when Ai's online post shocked the nation, throughout her training—to the day the interview was done—they never knew what the General Administration of Sports stipulated about the distribution of bonuses for athletes, and that Ai received none.
Take weightlifting as another example. Huang explained that it was a much less appreciated sport in China. After retirement, the athletes' well-being often was neglected.
Cai Li, once known as Asia's No. 1 Strongman, won the men's weightlifting undifferentiated champion of the 11th Asian Games in 1990, at the age of 20.
He won himself more than 60 gold medals at home. To maintain his competitiveness, he was obese and severely ill; subsequently he had an early retirement at 23 years of age. Five years after retirement, he died from lack of medical care. According to the Chinese media report, he had lived in poverty with a family of three. He was survived by his wife, who's also a weightlifting retiree suffering from serious sports injuries, and a 3-year-old girl. Cai left his family a total of 300 yuan in cash ($47).
Cai's wife, Liu Chengju, told the Chinese media that even a beggar's life is better, and she would not allow her child to become an athlete.
Huang expressed her gratitude for being the lucky one.
After retirement in 1994, she went to South Korea and pursued her studies at Myongji University. Later, she got married, and became a coach in South Korea.
She's deeply concerned about the well-being of Chinese athletes.
Huang said, "All democratic countries should condemn the regime's abuse of human rights."
She insisted that morality is the fundamental call of humanity.
Only the world sees through the Chinese Communist Party (CCP) will it speed up the demise of the regime, and the persecution be stopped, "that's the only way to help the Chinese athletes," Huang added.
With the fact that the CCP respects no human lives, "it has no position in hosting the Olympics," Huang said.
Huang Xiaoming, a famous Chinese Olympic medalist, denounced the CCP and withdrew from the CCP with a Party Withdrawal Statement on Dec. 12, 2004.
December 21, 2021 10:35 pm