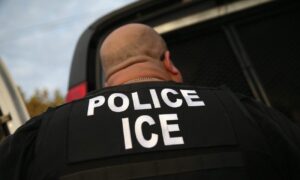 Border Patrol agents were so overwhelmed by illegal immigrants on the southern border last year that they resorted to issuing a newly developed "notice to report" to tens of thousands of individuals before releasing them into the United States.
The notice requested the illegal alien to report to a local Immigration and Customs Enforcement (ICE) office within 60 days, where they'd be issued a "notice to appear"—an official document that includes a date for their first immigration court hearing for their deportation proceedings.
Normally, illegal immigrants are given notices to appear before being released at the border.
More than 104,000 notices to report were issued in the five months between the end of March and the end of October 2021. Of those, 47,705 individuals have failed to report to ICE, according to official data received by Sen. Ron Johnson (R-Wis.).
Johnson had requested the information from the Department of Homeland Security (DHS) on Oct. 19, 2021.
In his letter accompanying the data, DHS Secretary Alejandro Mayorkas states: "DHS is committed to ensuring a safe, orderly, and humane immigration system.
"It is important that we continue working together during these unprecedented times as we strive to keep the country safe and secure."
Border authorities released more than 273,300 illegal aliens into the United States between January and August 2021.
ICE transported more than 37,000 by bus from the border to larger transportation hubs such as San Antonio or Phoenix, and provided domestic flights for 51,750 individuals.
Between March 21 and Dec. 5, 2021, ICE issued 50,683 notices to appear at local offices for illegal immigrants who had been issued a notice to report after apprehension at the border.
"For over 40,000 of those cases, ICE does not have data on what immigration court is overseeing these cases, despite the fact that ICE acts as the prosecutor in deportation proceedings," Johnson said in a statement.
The number of illegal immigrants apprehended by Border Patrol during 2021 reached historic highs in several metrics, including the total number (1.7 million), the number of unaccompanied children, and the number of illegal aliens from countries other than Mexico or the northern triangle countries of Guatemala, Honduras, and El Salvador.
January 13, 2022 12:00 pm