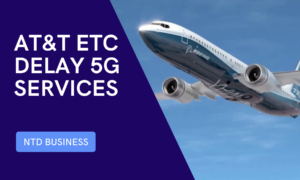 AT&T, Verizon to Delay Some 5G Deployment; Microsoft to Acquire Activision Blizzard | NTD Business
Microsoft is announcing plans to buy a major video game studio that would make it one of the biggest gaming companies in the world.
AT&T and Verizon again agree to delay turning on 5G services at some airports, amid a standoff with the airline industry, which has warned about a "catastrophic" impact on thousands of flights.
Oil prices hit seven-year highs Tuesday, after attacks in the Middle East add to an already tight supply outlook.
The CDC is warning about counterfeit masks. We have tips on how you can tell whether they're real or fake.
How much are Heidi Klum's legs worth? We take a look at how much they're insured for—and another interesting tidbit.
Read More
January 18, 2022 9:57 pm