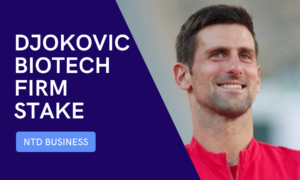 Djokovic Has Stake in COVID-Treatment Firm; China Cuts Lending Rates To Boost Economy | NTD Business
Amazon is opening its first physical store for clothing. Where will it be, and what will you find there?
The CEO of a biotech firm has revealed that the world's top tennis star and his wife own most of the company. What's it working on?
China is cutting a key interest rate for the second time in just a month. What's it worried about, and will it help spur its economy? we ask an expert.
Ford recalls nearly 200,000 vehicles. What's the risk, and what models are affected?
Trip Advisor is unveiling this year's most popular destinations. Which city took the number one spot?
Read More
January 20, 2022 9:57 pm