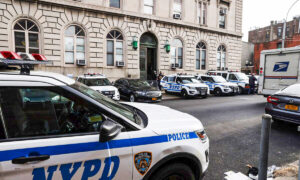 New York City Mayor Eric Adams is calling on the federal government to step in and help block the "constant flow" of guns into his city after two NYPD officers were shot, one fatally.
During an appearance on ABC's "Good Morning America" on Jan. 23, Adams said the coordination with the federal government would be part of his soon-to-be-unveiled plan to deal with "underlying reasons" for New York City to experience such a surge in violence.
"The police department is doing their job taking thousands of guns off the streets, yet each time you take a gun off, there's a constant flow of new guns coming here," the former police captain-turned-mayor said. "If we don't coordinate to go after those gun dealers that are supplying large cities in America such as New York, we are losing the battle, and the federal government must step in and play a role in doing so."
Adams, a Democrat, listed some other factors that are contributing to the growth in violent crime, including the city's public education system, which he said "has failed children for years," while leading the nation in terms of average spending on each student.
"We're dealing with a city that is feeding the many rivers of crime that feeds the sea of crime," he told the host. "Those rivers included an educational system that has failed children for years. It also includes the fact that COVID has devastated our city. We have laws that are not facing the reality of what's taking place on the ground."
"It's imperative that our city, state, and federal government coordinate together as we did during the terrorist attack on our soil," he said, referring to the Sept. 11, 2001, attacks.
Another part of the mayor's plan is to bring back the plainclothes police unit that was dismantled in 2020 by his Democratic predecessor, Bill de Blasio. Pro-police groups advocated in favor of that strategy, saying that proactive policing tactics have been effective in preventing violent crimes that involve guns.
"We're going to roll out a smart way of policing, putting in place again a modified version of a plainclothes anti-gun unit that's going to go after those known shooters and people who are actually creating the devastation in our city," Adams said.
Adams's comments come after a series of tragedies, including an 11-month-old girl in the Bronx who was struck by a stray bullet that hit the parked car she was in, and more recently, a fatal shooting of a police officer.
Officer Jason Rivera, 22, died on Jan. 21 as he responded to a domestic violence call in Harlem. Another officer who was shot, Wilbert Mora, remains in critical condition. The NYPD initially reported that the suspect, LaShawn McNeil, was killed by a third unnamed police officer at the scene, but later clarified that he was shot and critically wounded.
January 23, 2022 7:37 pm